Publication:
Recuperación de estructuras latentes y estimación de parámetros en test multidimensionales ordinales: análisis comparado entre la TRI la TCT y el análisis factorial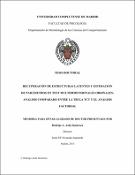 Files
Authors
Advisors (or tutors)
Editors
Publisher
Universidad Complutense de Madrid
Abstract
A través de la realización de cuatro estudios basados en datos simulados y unidos por una preocupación común, aunque parcialmente independientes en su metodología y foco específico, esta tesis se plantea como objetivo general poner a prueba algunas de las ventajas que podría obtener un investigador aplicado al utilizar modelos clásicos de TRI frente a otras opciones, para de esta forma evaluar la posibilidad de obtener resultados relativamente equivalentes utilizando procedimientos alternativos. Específicamente, en esta tesis se pone a prueba: a) la calidad diferencial de las estimaciones de las propiedades de los ítems obtenidas por los procedimientos TRI frente a los factoriales; b) la validez de los procedimientos de escalamiento TRI frente a los de la TCT; y c) los límites de la propiedad de invarianza de las estimaciones de sujetos e ítems obtenidas con procedimientos TRI. La hipótesis general de esta tesis es que, en el tipo de condiciones en que se ha enfocado el estudio, las ventajas de utilizar modelos clásicos de TRI no serán demasiado amplias, con lo que existirán condiciones en las que emplear procedimientos alternativos será recomendable, dada su simplicidad relativa y su equivalencia de resultados. La primera investigación utiliza datos simulados para comparar las estimaciones de discriminación de ítems politómicos provenientes del AFI, frente a las posibles de obtener con distintas estrategias relacionadas con el análisis factorial clásico. La segunda investigación, también utiliza datos simulados para poner a prueba la equivalencia de las estimaciones de discriminación de los ítems obtenidas con los procedimientos TRI y AFI. La tercera investigación, utiliza dos estudios basados en datos simulados tanto para comparar los escalamientos de los sujetos obtenidos por la TRI y la TCT, como para aclarar las condiciones en que es posible esperar la presencia similitudes o diferencias entre ambos...
Throughout four research studies using simulated data, this thesis aimed to test some of the potential benefits applied researchers might get from using classic item response theory models (IRT) over other available options, and assessed the possibility of obtaining relatively equivalent results using alternative methods designed for the same purpose. Specifically in this thesis tested: (a) the accuracy item property estimates achieved with TRI models compared to factor analytic procedures; (b) the validity of IRT subject scaling procedures compared to the classical test theory (CTT) scaling procedure; and (c) the limits the property of invariance of subject and item estimates obtained with IRT modeling procedures. The general hypothesis of this thesis is that, benefits derived from using classic IRT models might not be large in conditions assessed here; therefore, there will be circumstances in which the use of alternative procedures might be recommended, given its relative simplicity and its equivalent outcomes. The first research study assessed the item factor analysis (IFA) estimates for polytomous data and compared these estimations to those possible to achieve with classic factor analysis techniques. The second research assessed the equivalence between IRT and AFI estimates for item discrimination parameters. The third research compared IRT and CTT scaling procedures to clarify the situation where we might expect to find larger similarities and differences between them. Lastly, the fourth research aims to delimitate the limits and empirical consequences of the property of invariance of IRT models...
Description
Tesis inédita de la Universidad Complutense de Madrid, Facultad de Psicología, Departamento de Metodología de las Ciencias del Comportamiento, leída el 14-01-2016
Collections