Publication:
Integración comercial y monetaria en un contexto norte-sur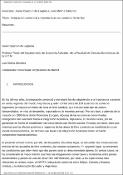 Files
Advisors (or tutors)
Editors
Publisher
Facultad de Ciencias Económicas y Empresariales. Decanato
Abstract
Se presentan las consecuencias teóricas de los acuerdos de libre comercio y las uniones aduaneras y las condiciones que determinan que dos países sean un área monetaria óptima. Se consideran las integraciones comerciales y monetarias entre países desarrollados y países en vías de desarollo, refiriendose al NAFTA y a la "dolarización" (Ecuador y Argentina)
Citation
Alberola y Molina (2000), Fiscal discipline and exchange rate regime: a case for currency boards?. Banco de España. Barro y Gordon (1983), Rules, discretion and reputation in a model of monetary policy. Journal of Monetary Economics. Ethier, W.: "The New Regionalism". The Economic Journal, vol. 108, nº 449, jul. 1998. Grauwe, P. De (1997), Economics of Monetary Integration. Oxford University Press. GATT (1993): El regionalismo y el sistema mundial de comercio. Secretaría del GATT, Ginebra, 1993. Grossman, G. y H. Helpman: "The Politics of Free-Trade Agreements". The American Economic Review, sept. 1995. Krueger, A.O.: "Free Trade Agreements as Proteccionist Devices: Rules of Origin". National Bureau of Economic Research (NBER), Workin Paper nº 4352, abril 1993. Lancaster, K. y R. Lipsey (1956): "The general theory of second best", Review of Economic Studies, vol. 24. Lipsey, R. (1960): "La teoría de las uniones aduaneras: un estudio general". En Comercio internacional. Textos escogidos. (ed. J. Bhagwati), Ed. Tecnos, Madrid 1975. Meade, J. (1956): The Theory of Customs Unions. Ed. North Holland. Molina, L. (1998), ¿Es justificable la protección comercial?: síntesis de los argumentos más destacables, Documento de trabajo 9809, Universidad Complutense de Madrid. Molina, L., Sánchez Pastor y Zamorano (1999), La evolución de la economía latinoamericana: tercer trimestre de 1999. Banco de España. Mundell, R. (1961), A theory of optimal currency areas. American Economic Review. Oyarzun, J. (1998): "Regionalismo versus multilateralismo: efectos de la Ronda Uruguay". En Europa e Iberoamérica: dos escenarios de integración económica (Eds. Ruesga, Heredero, Fujii). Ed. Parteluz, Madrid 1998. Oyarzun, J. (2000): México en el TLCAN, España en la UE: balance de la integración. Comercio Exterior, vol. 50, núm. 8, México, agosto 2000. Panagariya, A. (1996): "The Free Trade Area of the Americas: Good for Latin America?". The World Economy, vol. 19, núm. 5, sept. 1996. Rose (1999), One Money, One Market: estimating the effect of common currencies on trade, CEPR Discussion Paper series. Viner, J. (1950): The Customs Unions Issue. Carnegie Endowment for International Peace, New York 1950. Zamorano, J. (2000), La economía de Argentina en los años noventa: del Plan de Convertibilidad a la propuesta de dolarización. Banco de España. Zamorano, J. y L. Molina (2000), La evolución de la economía latinoamericana: febrero de 2000. Banco de España.