Publication:
Propiedades en el rango ultravioleta de galaxias cercanas con datos de espectroscopía bidimensional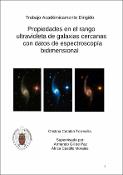 Files
Authors
Advisors (or tutors)
Editors
Abstract
CALIFA (Calar Alto Legacy Integral Field Area survey) ha sido diseñado para ser el primer proyecto que proporcionará datos de espectroscopía de campo integral (IFS, del inglés Integral Field Spectroscopy) para una muestra que contenga todos los tipos de galaxias (~600) en el Universo local (0.005<z<0.03) cubriendo el rango óptico. Compararemos estos datos con aquellos obtenidos por el satélite GALEX (GALaxy Evolution eXplorer) en el UV en ambas bandas far-UV (FUV) y near-UV (NUV). El objetivo principal de este trabajo es proporcionar una determinación robusta de la tasa de formación estelar (SFR, del inglés Star Formation Rate) en las galaxias a estudiar como un elemento esencial para entender la evolución de las galaxias. Nos centraremos en el análisis de esta propiedad usando diferentes trazadores: la línea de emisión de Hα (CALIFA) y el continuo FUV (GALEX) y estudiaremos la distribución espacial de los diferentes trazadores de SFR. Las SFRs pueden derivarse empleando las relaciones de Kennicutt (1998) teniendo en cuenta que en el caso del continuo FUV es necesario corregir la luminosidad FUV de atenuación y para Hα necesitamos la luminosidad Hα corregida de extinción. Se han estudiado dos galaxias espirales, NGC7549 y NGC6394, en ambos casos se ha descubierto la presencia de regiones de formación estelar oscurecidas. [ABSTRACT] The Calar Alto Legacy Integral Field Area survey (CALIFA survey) has been designed to be the first survey to provide Integral Field Spectroscopy (IFS) data for a statistical sample of all galaxy types (~600 galaxies) in the local Universe (0.005<z<0.03) covering the optical wavelength. We compare these data with the ones in the UV range obtained by GALEX (GALaxy Evolution eXplorer) satellite at both far-UV (FUV) and near-UV (NUV) wavelengths. The main objective of this work is to provide a robust determination of the star formation rate (SFR) in galaxies as a crucial element to understand galaxy evolution. We focus on the analysis of this property using different tracers/calibrators: Hα-line emission (from CALIFA) and FUV continuum (from GALEX) and we study the spatial distribution of the different SFR tracers. The SFRs can be derivate using Kennicutt (1998) relations, taking into account that in the case of FUV continuum is necessary FUV luminosity corrected for attenuation, for Hα we need the extinction-corrected Hα luminosity. Two spiral galaxies have been studied, NGC6394 and NGC7549, in both cases the presence of regions of obscured star formation has been discovered.
Description
Trabajo Académicamente Dirigido: Curso 2010/2011
Citation
Bruzual and Charlot 2003, MNRAS, 344, 1000-1028. Buat et al. 2005, ApJL, 619, 51-54. Cardelli et al. 1989, Apj, 345, 245-256. Cortese et al. 2008, MNRAS, 386, 1157-1168. De Vaucouleurs et al. 2001, Third reference catalog of bright galaxies. Gil de Paz et al. 2005, ApJS, 156, 345-360. Gil de Paz et al. 2007, ApJS, 173, 185-255. Kennicutt 1998, ARA&A, 36, 189-232. Muñoz-Mateos et al. 2009a, ApJ, 701, 1965-1991. Muñoz-Mateos et al. 2009b, ApJ, 703, 1569-1596. Osterbroock 1989, Astrophysics of gaseous nebulae and active galactic nuclei. Prescott et al. 2007, ApJ, 668, 182. Salpeter 1955, ApJ, 121, 161 Schmitt et al. 2001, ApJ, 555, 663-672. Schmitt et al. 2003, ApJ, 597, 768-779.
Collections