Publication:
El papel de los corresponsales de guerra en la cobertura de conflictos bélicos en la prensa escrita española: análisis de los conflictos más representativos desde 2010 a 2020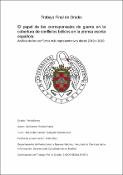 Authors
Advisors (or tutors)
Editors
Abstract
Este proyecto tiene como propósito analizar el papel de los corresponsales de guerra en los medios de comunicación de prensa escrita españoles que han desempeñado en los últimos años, en la narración de varios de los conflictos armados ocurridos a nivel internacional en los últimos veinte años, que son la guerra de Afganistán, la guerra de Libia, la guerra de Siria y por último la guerra de Sudán del sur. Cuando gran cantidad de periodistas comenzaron a divulgar y dar a conocer el desamparo que sufrían por parte de los medios de comunicación en medios independientes digitales. Para llevar a cabo dicho análisis, se hará un tratamiento de diferentes medios de prensa escrita, en los aspectos del tratamiento y amparo de las noticias por parte de los periodistas de guerra y del espacio que le dan los propios medios.
The purpose of this project is to analyze the role of war correspondents in the Spanish written press communication media that they have played in recent years, in the narration of several of the armed conflicts that have occurred at the international level in the last twenty years, which they are the war in Afghanistan, the war in Libya, the war in Syria and finally the war in South Sudan. When a large number of journalists began to disclose and publicize the helplessness they suffered from the media in independent digital media. In order to carry out this analysis, a treatment will be made of different written press media, in the aspects of the treatment and protection of the news by war journalists and the space provided by the media themselves.