Publication:
Heritage and museums artefacts as cultural resource for creative practice in social transformation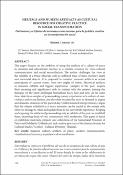 Authors
Advisors (or tutors)
Editors
Publisher
Universidad Complutense de Madrid, Servicio de Publicaciones
Abstract
This paper focuses on the problem of using the artifacts of a culture of peace in museum and educational practice as a creative resource for cross-cultural communication and social reconciliation. The author challenges the view at the exhibits of a Peace Museum only as stiffened trace of time, memory index and memorial objects. It is proposed to consider museum artifacts as actual participants of current events from two angles of vision. Historical artifacts as museum exhibits and bygone experiences (samples of the past) acquire their meaning and significance only in contact with the present, joining the dialogue on the latest challenges humankind faces here and now. At the same time, objects as samples of peacemaking convey experiences of a culture of nonviolence and reconciliation, and therefore become the most in demand in urgent and dramatic situations of the present day. Unlike standard interpretations, I argue that the objects exhibited at a peace museum can be useful to the society only when we manage to relate and update them to the current life experience. Keeping and exposing the artifacts of peacemaking only as exhibits of the past, we mothball them, depriving them of vital communion with modernity. This paper is based on published materials, projects and collections of the Samarkand Museum of Peace and Solidarity (Uzbekistan) and creative practices of the Samara Society for Cultural Studies "Artifact - Cultural Diversity" (Russia).
Este trabajo se centra en el problema del uso de los artefactos de una cultura de paz en el Museo y la práctica educativa como un recurso creativo para la comunicación intercultural y reconciliación social. El autor desafía la visión en las exhibiciones de un Museo de la paz sólo como refuerzo del rastro de tiempo, índice de la memoria y monumento de recuerdos. Se propone considerar los objetos del Museo como participantes reales de los acontecimientos actuales desde dos puntos de vista. Artefactos históricos como objetos expuestos del Museo y de experiencias pasadas (muestras del pasado) que adquieren su significado y significación sólo en contacto con el presente, junto al diálogo en los últimos retos de la humanidad aquí y ahora. Al mismo tiempo, objetos como muestras de paz que transmiten experiencias de una cultura de no violencia y reconciliación y por lo tanto, se convierten en la mayoría de la demanda en situaciones urgentes y dramáticas de la actualidad. A diferencia de interpretaciones estándar, sostengo que los objetos exhibidos en un Museo de la paz pueden ser útiles a la sociedad sólo cuando logremos relacionarlos y actualizarlos a la actual experiencia de vida. Mantener y exponer los artefactos de la paz solamente como muestra del pasado, sólo suponen encapsularlos como naftalina negándoles su comunión vital con la modernidad. Este documento se basa en materiales publicados, proyectos y colecciones del Museo de la paz y la solidaridad de Samarcanda (Uzbekistán) y las prácticas creativas de la sociedad de estudios culturales de Samara "Artefacto – Diversidad Cultural" (Rusia).
Collections