Publication:
El lugar de las poéticas explícitas en los Estudios Literarios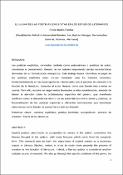 Authors
Advisors (or tutors)
Editors
Abstract
Las poéticas explícitas, conocidas también como autopoéticas o poéticas de autor, condensan el pensamiento literario de los autores imponiendo ciertas características derivadas de su formalización ensayística. Este trabajo busca reivindicar el papel de las poéticas explícitas como corpus necesario para los Estudios Literarios, fundamentalmente en las investigaciones relacionadas con el proceso de creación o la función de la literatura, tomando al autor literario como una fuente más a tener en cuenta. Para ello, expone los argumentos favorables a esta consideración, además de llamar la atención sobre la problemática específica del género, que manifiesta conflictos como la discordancia dentro de un autor literario entre teoría y práctica, la ficcionalización de las poéticas explícitas o diferentes motivaciones que desvirtúan estos textos como fuente de conocimiento teórico-literario.
Explicit poetics, also known as autopoetics or poetics of the author, summarize the literary thought of the writers, with some features which come from his essayistic form. This research aims to claim the importance of explicit poetics as a necessary corpus in Literary Studies, mainly in order to study more properly the process of creation or the function of literature. Indeed, a literary author is considered another suitable source of research. We also go through the specific problems of the genre, for example the discordance that may arise in a literary author between theory and literary practice, or editorial reasons which can mislead the comprehension of explicit poetics.
Collections