Publication:
Las estrategias y tácticas del yihadismo en Europa: los procesos de radicalización violenta en jóvenes inmigrantes musulmanes y de segunda y tercera generación (2004-2015)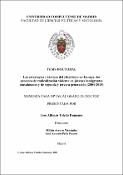 Files
Authors
Advisors (or tutors)
Editors
Publisher
Universidad Complutense de Madrid
Abstract
El objeto de estudio de esta Tesis Doctoral, trata sobre 'Las estrategias y tácticas del yihadismo en Europa: procesos de radicalización violenta de jóvenes musulmanes de origen inmigrante y en segunda y tercera generación' durante el período 2004-2015; por parte de las redes terroristas Al Qaeda, Daesh u otras; abocándose a analizar qué factores influyen y coad-yuvan en estos jóvenes musulmanes para captarles e instarles a participar en un proceso de radicalización e ideologización hasta la yihad; atraídos a través de una cadena de individuos, mensajes y contenidos en la propaganda para su yihadización.Se examinan características individuales, sociales, familiares, económicas; entre las que destacan: ignorancia o disolución de sus tradiciones culturales, religiosas y ritualidad; ausencia o débil identidad individual o comunitario, vivencias propias de discriminación social, educa-tiva, laboral o política, y, finalmente, inequidad económica; factores que definen en el indivi-duo captado el carácter y actuaciones en la red. Esta investigación realizada en las Comunidades Autónomas de Madrid y Cataluña, Es-paña; a través de la bibliografía especializada, entrevistas a expertos académicos, policiales y de inteligencia, trabajadores en atención pública y servicios sociales, y el aporte de represen-tantes comunitarios musulmanes; quienes hacen emerger estos factores y necesidad del desa-rrollo de estrategias y actuaciones preventivas en Europa, para reducir el impacto de elementos favorecedores de la radicalidad en la población más vulnerables; abordando esta cuestión de forma sistemática para intentar distinguir posibles actuaciones institucionales.
This Doctoral Thesis is based on the strategies and tactics use byt Jihadism in Europe. It comprises the violent radicalisation processes on young Muslisms immigrant, including sec-ond and third generation immigrant during the period of time from 2004 to 2015. It will inves-tigate what factors influence and contribute to urge to young Muslims to take part into a process of recruitment, radicalization and ideologization for the jihad against the West, by groups such as Al Qaeda, Daesh or others dispersed groups of the terrorist network.Individual, social, family and economic factors are examined. Among these factors are: ignorance or dissolution of their cultural, religious and ritual traditions; an absence of a solid individual or community identity; experiences of social stigma, educational, labor or political discrimination; and, finally, economic inequality. These factors not only define their character and performance of an individual but also how these networks work.This research has been carry out in the Communities of Madrid and Catalonia. It is based on scholar bibliography, interviews and consultants with academic, police and intelli-gence experts along with public care and social services workers, and finally, Muslim repre-sentatives. They all pointed out these previous factors and also the necessity of policies in Europe in order to reduce the impact of these factors among the most vulnerable sectors of the population. Addressing this issue in a systematic way, delimiting the problem and trying to envision possible institutional actions is the main objective of this work.
Description
Tesis inédita de la Universidad Complutense de Madrid, Facultad de Ciencias Políticas y Sociología, leída el 21-10-2021
Collections