Publication:
Enfermedad inflamatoria intestinal y celiaquía : componente genético y farmacogenética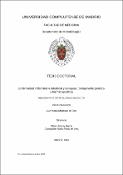 Files
Authors
Advisors (or tutors)
Editors
Publisher
Universidad Complutense de Madrid
Abstract
La enfermedad inflamatoria intestinal (EII) y la enfermedad celiaca (ECe) son dos enfermedades mediadas por el sistema inmunológico con afectación intestinal crónica. En los últimos años los avances en los estudios genéticos (GWAS) han permitido identificar un amplio número de variantes asociadas a estas enfermedades (163 loci en EII y 40 en ECe). A pesar de ello, existe un porcentaje de heredabilidad aún por descubrir ("heredabilidad perdida") en la que hemos centrado este trabajo. Comenzamos estratificando a los pacientes celiacos atendiendo al riesgo genético conferido por la región HLA y observamos un factor de riesgo adicional portado en el haplotipo ancestral 8.1, presente en algunos individuos DQ2. Continuando con la búsqueda de parte de esa varianza genética desconocida, observamos una interacción epistática entre los genes IL23R y TLR9 que confiere susceptibilidad a EC. También analizamos diversos genes involucrados en la ruta Th17 en ECe, no observamos implicación de ninguno de los 16 genes estudiados (CCR6, GLB1, IL17F, IL2, IL21, IL22, IL23A, IL23R, IL6, JAK2, RHBDD3, SMAD3, STAT3 y TYK2) por sí solos ni interaccionando con otros genes de la misma ruta. Como segundo objetivo estudiamos la expresión intestinal de genes Th17 en celiaquía y colitis ulcerosa. En ECe determinamos la existencia de un perfil de expresión diferencial en IL6 y RHBDD3, que además difería entre adultos y niños. En colitis ulcerosa observamos diferente expresión de CCR6, IL6 y SMAD3 entre tejido inflamado y normal. Nuestro último objetivo fue la búsqueda de marcadores genéticos que predigan la respuesta a infliximab, tratamiento biológico en enfermedad de Crohn. Nuestro trabajo confirma la asociación de un haplotipo en el gen TNFRSF1B con la respuesta a infliximab. Además, observamos una asociación con pérdida de respuesta de una combinación alélica en los genes TNFAIP6, S100A8, S100A9, IL11 y G0S2. [ABSTRACT]Inflammatory bowel disease (IBD) and celiac disease (CeD) are immune-mediated disorders with chronic intestinal affectation. During past years, advances in genetic studies (GWAS) allowed the identification of variants associated with these diseases: 163 with IBD and 40 with CeD susceptibility. Despite this, a percentage of heritability remains to be discovered ("missing heritability").The first aim of this work was looking for part of this "missing heritability". First, we studied the HLA region which harbours the main CeD risk factor. Our patients were stratified according to the genetic risk conferred by the HLA alleles and we observed an additional risk variant in the ancestral haplotype 8.1, present in some DQ2 patients. To advance in the genetic knowledge of complex disorders, we looked for epistatic interactions. Our results showed an epistatic interaction between IL23R and TLR9 genes which contributes to Crohn's disease risk. Third, we analyzed 16 genes involved in the Th17 pathway in CeD, and no associated variant or epistatic interaction were observed in the studied genes (CCR6, GLB1, IL17F, IL2, IL21, IL22, IL23A, IL23R, IL6, JAK2, RHBDD3, SMAD3, STAT3 and TYK2). Our second aim was to study the expression levels of Th17 genes in intestinal biopsies of CeD patients. A different profile expression was observed in four genes (IL23A, JAK2, IL6 and RHBDD3). Additionally, we analyzed the expression of the same Th17 genes in ulcerative colitis patients and a different profile expression in CCR6, IL6 and SMAD3 was observed in inflamed versus normal tissue. Finally, genetic variants were searched to predict the response to infliximab, a biological treatment administrated in refractory Crohn's patients. The association of one haplotype of the TNFRSF1B gene with response to IFX was confirmed. Moreover, we observed an allelic combination of the TNFAIP6, S100A8, S100A9 IL11 and G0S2 genes associated with a loss of response
Description
Tesis inédita de la Universidad Complutense de Madrid, Facultad de Medicina, Departamento de Microbiología I, leída el 14-02-2014.
Collections