Publication:
Bibliotecas como espacio de seducción: si no puedo bailar esta no es mi biblioteca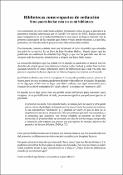 Authors
Advisors (or tutors)
Editors
Abstract
Los contenidos de esta conferencia estaban terminados antes de que se declarara la pandemia mundial provocada por el Covid19 en marzo de 2020. Estaba pensada para compartirse en un evento multitudinario que nunca se llegó a celebrar. Fue la primera cancelación de las muchas que hemos vivido desde entonces. Lo que leía, pensaba y escribía durante la preparación cobra ahora otro sentido. La sensación distópica que ha dejado en el mundo la pandemia se mezcló con los destellos de utopía queer (un futuro para todas, todos, todes) y ambas fuerzas han quedado latentes en estas reflexiones sobre las bibliotecas que, cada vez más, me parecen espacios de deseo, cápsulas de futuro y lugares necesarios en el mundo.
The contents of this conference were finished before the global pandemic caused by Covid19 was declared in March 2020. It was intended to be shared in a massive event that was never held. It was the first cancellation of the many that we have experienced since then. What I read, thought and wrote during preparation now takes on another meaning. The dystopian feeling that the pandemic has left in the world was mixed with flashes of queer utopia (a future for everyone) and both forces have remained latent in these reflections on libraries that, increasingly, seem to me spaces of desire, capsules of the future and necessary places in the world.