Publication:
Del videoclip al spot individual: propuesta metodológica de análisis a través de la música "mainstream"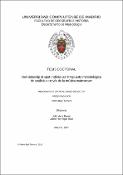 Files
Authors
Advisors (or tutors)
Editors
Publisher
Universidad Complutense de Madrid
Abstract
El título de esta tesis, Del videoclip al spot audiovisual: Propuesta metodológica de análisis a través de la música mainstream, trata de sintetizar su propósito principal; elaborar un método analítico que persigue una finalidad práctica y aplicable para analizar las relaciones entre dos objetos audiovisuales muy presentes en nuestra vida diaria. A través de este trabajo se estructura una metodología a través de la cual es posible realizar un análisis riguroso y exhaustivo de las relaciones que se dan entre un spot audiovisual que emplea música mainstream y el correspondiente videoclip en el que se encuentra dicha música. Dos elementos que han pasado de ser meros productos o vehículos de naturaleza seductora y persuasoria diseñados para promocionar y vender, a ser objetos audiovisuales que forman parte de la cultura popular contemporánea. Se ha realizado una aproximación a los conceptos de Popular music y Cultural Studies a lo largo del primer bloque correspondiente a la introducción en el que se ha incluido además el estado de la cuestión, la hipótesis, los objetivos, la metodología y las fuentes de la tesis. El segundo bloque corresponde al marco teórico y la contextualización de la investigación y se ha vertebrado en torno a cuatro ejes principales titulados: 1. Naturaleza social y mediatización de la música; 2.Música, industria y mercado; 3. Música y cultura audiovisual y un último eje que titulado 4. Música y semiótica. El tercer bloque se ha titulado: Objetos de estudio: Videoclip y spot audiovisual. Durante el mismo se analizan ambos elementos por separado para finalizar desarrollando un epígrafe en el que videoclip y spot se relacionan donde se plasman una serie de reflexiones sobre las hibridaciones que se producen en su cada vez más estrecha interacción...
NOTA 520 8 The title of this thesis ́From the music video to the audiovisual spot: Methodological proposal of analysis through mainstream music' tries to summarize its main purpose; the development of a method that, from a practical perspective, enables to analyze the relationships between two audiovisual elements which are very present nowadays. Throughout this work a methodology is established that enables to conduct a rigorous and comprehensive analysis of the relationships between an audiovisual spot, using mainstream music, and the corresponding music video, where such music is located. Two elements which have evolved from mere products or vehicles of seductive and persuasive nature, designed to promote and sell, to audiovisual objects belonging to the contemporary popular culture. An approach has been adopted to the concepts of Popular music and Cultural Studies in the introduction section, which also includes the state of the art, the hypothesis, the objectives, the methodology and the thesis sources. The second section corresponds to the theoretical framework and research context. It has been divided in for main themes as follows: 1. Social nature and media coverage of music; 2. Music, industry and market; 3. Music and audiovisual culture; and 4. Music and semiotics. The third section has been titled: Subject of Study: Music video and audiovisual spot. Throughout this section each element is studied separately to conclude with an analysis on the relationships between both elements and the hybridizations which are taking place in their increasingly closer interaction...
Description
Tesis inédita de la Universidad Complutense de Madrid, Facultad de Geografía e Historia, Departamento de Musicología, leída el 18-11-2016
Collections