Publication:
Un análisis económico del mercado hispano en Estados Unidos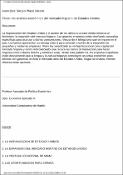 Files
Authors
Advisors (or tutors)
Editors
Publisher
Facultad de Ciencias Económicas y Empresariales. Decanato
Abstract
La hispanización de Estados Unidos y el acceso de los latinos a la clase media remarca un fenómeno: la expansión del mercado hispano. Las grandes empresas están diseñando campañas específicas para alcanzar a dichos consumidores, reforzando el bilingüísmo que se impone en el país. Los latinos aprovechan su ventaja cultural para competir a través de la expansión de pequeñas y medianas empresas. Miami ha consolidado su ventaja locacional como capital del mercado hispano y centro intercambiador que reduce los costes de transacción para hacer negocios entre Estados Unidos y América Latina. Desde esta plataforma, las empresas españolas están descubriendo que la lengua y la cultura hispanas constituyen un activo económico para afrontar con garantías de éxito el mercado latino de Estados Unidos. Según se analiza, Internet refuerza estas opciones.
Citation
ALESINA, A. Y H. ROSENTHAL (1995): Partisan Politics, Divided Government, and the Economy, Cambridge University Press, Cambridge. CALLER CELESTINO, J.M. (1999): La construcción de la identidad étnica en los hispanos de las montañas Manzano de Nuevo México, Agencia Española de Cooperación Internacional, Madrid. COASE, R. (1937): "La naturaleza de la empresa", versión española, en R. COASE: La empresa, el mercado y la ley, Alianza editorial, Madrid, 1994, pgs. 33-49. DOSSIER DE PRENSA: "Latinolink" y "El Nuevo Herald". FOX, G.(1996): Hispanic Nation: Culture, Politics and the Constructing of Identity, Birch Lane Press, Secaucus, NJ. FUENTES, C. (1992): El espejo enterrado, Editorial Taurus, Madrid, 1997. FUENTES, C. (1998): "Los Estados Unidos por dos lenguas", El País, 18 de junio, pg. 14. JIMENEZ NUÑEZ, A. (1974): Los hispanos de Nuevo México. Contribución a una antropología de la cultura hispana en Estados Unidos, Universidad de Sevilla. Sevilla. KRUGMAN, P. (1991): Geografía y comercio, Antoni Bosch editor, versión española, Barcelona, 1992. MARSHALL, A. (1920): Principles of Economics, octava edición, Mac-Millan, Londres, 1964. OHMAE, K. (1985): El poder de la triada, versión española, Editorial Mc-Graw-Hill, Madrid, 1991. OLSON, M. (1965): The Logic of Collective Action, Harvard University Press, Cambridge, MA. PEREZ-NIEVES HEREDERO, J.A. (1997): "Españoles e hispanos en Estados Unidos", El País, 10 de marzo, pg. 12. UNAMUNO, M. (1897/1936): El porvenir de España y los españoles, Editorial Espasa-Calpe, Madrid, 1973.