Publication:
Neuromarketing y nuevas estrategias de la mercadotecnia: análisis de la eficiencia publicitaria en la diferenciación de género y la influencia del marketing sensorial y experiencial en la decisión de compra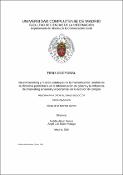 Files
Authors
Editors
Publisher
Universidad Complutense de Madrid
Abstract
La aplicación de las neurociencias en el conocimiento del ser humano ha demostrado cómo el empleo de estímulos sensoriales y experienciales influyen en la atención, el agrado, las emociones, el compromiso –engagement- y la memoria -recuerdo y reconocimiento- de las marcas en entornos publicitarios relacionados con la decisión de compra. El objeto a través del empleo del Neuromarketing es determinar las áreas y funciones de las activaciones cerebrales que modulan la conducta del consumidor relacionadas con la mercadotecnia y el proceso de compra en entornos comerciales. Asimismo identifica el efecto que la publicidad genera en hombres y mujeres al encontrar diferencias de género de cómo les impacta la publicidad como la utilización de personajes célebres a cada uno de ellos, con los que adecuar los mensajes a los segmentos de mercado que tiendan a la excelencia de la eficiencia publicitaria con los que ayudar a los protagonistas clave del sector de la marketing y la publicidad. A través de un estudio propio de Neuromarketing se analiza el comportamiento de hombres y mujeres durante la visualización de los anuncios publicitarios como recurso estratégico para mejorar la eficiencia publicitaria en el diseño y la comunicación de un producto, servicio o campaña publicitaria antes, durante y después del lanzamiento.La medición publicitaria realizada con algunas de las técnicas de Neuroimagen más precisas del mercado, el Electroencefalograma (EEG) y biométricas; el Ritmo Cardíaco (HR) y Respuesta Galvánica de la Piel (GSR), han registrado el aumento del nivel de atención, agrado, emociones o motivación cuando se genera una necesidad o deseo en la demanda de los consumidores mejorando las actuales técnicas de Investigación de Mercado del marketing tradicional. Estas investigaciones permiten presentar la creación del modelo de eficiencia en el diseño y comunicación publicitaria SIADEM (-SENSORY, INTENTION, ATTENTION, DESIRE, EMOTION, MEMORY-) que tiene en cuenta los elementos básicos en los que se debe basar los mensajes publicitarios de cualquier marca para atraer el interés del cerebro consumidor.
The application of Neuroscience in the knowledge of the human being has demonstrated how the use of sensorial and experiential stimuli to influence the attention, the liking, the emotions, the engagement, the memory and recognition of brands in advertising environments are related to purchase decision making. The objective of this study determines the areas and functions of the brain activations which modulate the behavior of the consumer in relation to Marketing and to the purchase process in a shopping environment. It also identifies the effect that advertising generates in men and women finding differences between how each gender is impacted by it and measuring the influence of power endorsement with which messages can be fine tuned according to market segmentation in order to excel in efficiency and help the protagonists of marketing and advertising. Through a specific Neuromarketing study the behavior of men and women is analyzed during the showing of advertising as a strategic resource to improve the advertising efficiency in the design and communication of a product, service or advertising campaign before, during and after the launch. The measuring of this advertising is done with some of the most precise Neuroimaging and biometrical techniques on the market, such as the Electroencephalogram (EEG) and the Heart Rate (HR) as well as the Galvanic Skin Response (GSR), which register the level of attention, likeness, emotions or motivation when a need or desire is gnereated in the consumer, bettering the current research techniques in the traditional Marketing market. This research allows us to present the creation of the model of efficiency in the design and advertising communication SIADEM (-Sensory, Intention, Attention, Desire, Emotion, Memory-) which holds into consideration the basic elements on which any brand must base its advertising message in order to attract the interest of the consumer's brain.
Description
Tesis inédita de la Universidad Complutense de Madrid, Facultad de Ciencias de la Información, Departamento de Ciencias de la Información, Departamento de Historia de la Comunicación Social, leída el 03-02-2016
Collections