Publication:
Campos conocidos, senderos nuevos. Población y producción agraria en Burgos, 1540-1865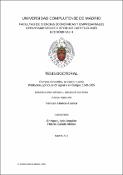 Authors
Advisors (or tutors)
Editors
Publisher
Universidad Complutense de Madrid
Abstract
Esta tesis forma parte de un proyecto de investigación del Grupo Complutense de Historia Económica Moderna cuyos objetivos esenciales son la reconstrucción del movimiento de la población y la estimación del crecimiento económico en la Castilla de los siglos XVI-XIX. Concretamente, los fines fundamentales de la presente investigación son: primero, estudiar la evolución de la población de la población de la actual provincia de Burgos; y segundo, medir el crecimiento agrario en dicha provincia entre las postrimerías del Quinientos y la primera mitad de la década de 1770. La presente tesis tiene una orientación básicamente cuantitativa: pretende reconstruir variables demográficas y agrarias en periodos prolongados o en determinados cortes temporales. Ahora bien, el propósito último de este esfuerzo de reconstrucción de series y datos demográficos y agrarios radica en la utilización de unas y otras para averiguar o, cuando menos, vislumbrar la naturaleza y la magnitud de los cambios económicos registrados en un territorio de la España interior, el burgalés, durante la Edad Moderna y los albores de la Edad Contemporánea. Los temas básicos de mi tesis en absoluto son novedosos: tuvieron un destacado protagonismo en la historiografía europea y española de las décadas de 1960, 1970 y en la primera mitad de la de 1980...
This thesis is part of a research project of the Complutense Group of Modern Economic History, whose main objectives are to reconstruct population movements and estimate the economic development in the Crown of Castile between of the sixteenth and the nineteenth century. More specifically, the objects of the present enquiry are: first, to study the evolution of the population of the province of Burgos; and second, to measure its agricultural development from the late sixteenth century until the first half of the 1770s. This thesis has a predominantly quantitative orientation: to reconstruct demographic and agriculture variables over long periods or specific periods of time. However, the ultimate purpose of this effort to reconstruct demographic and agricultural data resides in the use of both of them to determine or at least approach the nature and magnitude of economic changes in a territory of inland Spain, the province of Burgos, during the Modern Age and the first half of the nineteenth century. The fundamental subjects of analysis of my research are not original and, in fact, they had an important role in European and Spanish historiography during the 1960's, 1970's and the first half of the 1980's. What leads me to retake old historiographical matters? I believe that the exploitation of previously unknown tithe records of excellent quality from the archbishopric of Burgos, combined with the use of new methodologies, allows a more satisfactory measurement of agricultural growth and its path in the province of Burgos. The data held in the tithe survey offer a complete agricultural record of the province of the Burgos. These files were produced by the local ecclesiastical agents, who had to answer a uniform set of questions about their parish. The tithe was divided by type and value...
Description
Tesis inédita de la Universidad Complutense de Madrid, Facultad de Ciencias Económicas y Empresariales, Departamento de Historia e Instituciones Económicas II, leída el 15/03/2016
Collections