Publication:
Comment on "Sequencing-independent delocalization in a DNA-like double chain with base pairing"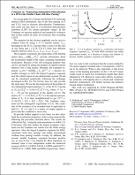 Advisors (or tutors)
Editors
Publisher
American Physical Society
Description
© 2006 The American Physical Society. This work was supported by UCM (Program BCSH), MEC (Project No. MAT2003-01533) and CAM (Project No. GR/MAT/0039/2004).
Citation
[1] R. A. Caetano and P. A. Schulz, Phys. Rev. Lett. 95, 126601 (2005). [2] P. W. Anderson, D. J. Thouless, E. Abrahams, and D. S.Fisher, Phys. Rev. B 22, 3519 (1980). [3] D. Sedrakyan and A. Sedrakyan, Phys. Rev. B 60, 10 114 (1999); T. Hakobyan, D. Sedrakyan, A. Sedrakyan, I. Go´mez, and F. Domı´nguez-Adame, Phys. Rev. B 61, 11 432 (2000); T. Sedrakyan and A. Osipov, Phys. Rev. B 70, 214206 (2004).
Collections