Publication:
La estructura del dominio de Colchicina como base para el diseño y síntesis de compuestos con propiedades antimitóticas y antivasculares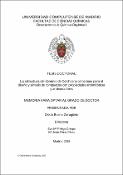 Files
Authors
Advisors (or tutors)
Editors
Publisher
Universidad Complutense de Madrid
Abstract
El desarrollo de redes de vasos sanguíneos que puedan aportar oxígeno y nutrienteses una de las características esenciales para el crecimiento de tumores sólidos. Dadala importancia de un adecuado flujo sanguíneo en el entorno tumoral para la expansióncelular y la metástasis tumoral, la búsqueda de compuestos capaces de inhibir dichavascularización centra grandes expectativas en el estudio actual de nuevas estrategiasantineoplásicas. Dentro de la terapia antivascular, los agentes interruptores de lavascularización tumoral (VDAs) ocupan un papel primordial debido a su mecanismo deacción, complementario a las terapias ya existentes. Los VDAs actúan directa yselectivamente sobre el endotelio tumoral, induciendo cambios morfológicos yfuncionales que provocan el descenso rápido y dramático del flujo sanguíneo en el senodel tumor, el cual acaba necrosándose. Dentro de los VDAs, los compuestos másestudiados se encuadran dentro del grupo de ligandos del sitio de colchicina en tubulina,que inhiben la polimerización de los microtúbulos celulares, actuando así como agentesantimitóticos.La acción antitumoral dual de los VDAs basados en colchicina (antivascular yantimitótico) explica el enorme potencial terapéutico de esta clase de compuestos. Entreestos VDAs cabe destacar la combretastatina A4 (CA-4), compuesto de referencia delque además existen varios derivados que actualmente se encuentran en fases clínicasavanzadas. Ahora bien, estos candidatos, junto a otros VDAs que también están siendoobjeto de investigación clínica, todavía presentan notables limitaciones que obstaculizanel desarrollo farmacéutico de los mismos, tales como la baja estabilidad química y/o lalimitada solubilidad. Por ello, el objetivo central de esta Tesis ha consistido en labúsqueda de nuevos VDAs ligandos del sitio de colchicina de mejor perfil farmacológico,que solventen los problemas de los compuestos desarrollados hasta el momento...
The requirement of vascularization for tumor growth and metastasis has become oneof the greatest areas of research in the latest years. Solid tumors cannot grow withoutblood supply to provide oxygen and nutrients. In addition, blood flow in the tumorenvironment is crucial for cell invasion during metastasis process. Thereby, theantivascular therapy is considered a promising approach to cancer treatment.Particularly, vascular disrupting agents (VDAs) play an important role due to theirmechanism of action, complementary to other existing therapies. VDAs act directly andselectively over tumor endothelium, inducing crucial morphological and functionalchanges. Consequently, blood flow is dramatically decreased and the hypoxia generatedunleashes the final tumor necrosis. The best studied VDAs are tubulin ligands at thecolchicine binding site. These ligands inhibit microtubule polymerization, having in thisway an additional antimitotic effect.The antitumor activity of VDAs based on colchicine is due to their dual mechanism ofaction (antivascular and antimitotic) which support the potential therapeutic value ofthese agents. The prototype compound among VDAs acting at the colchicine site intubulin is combretastatin A-4 (CA-4). Although identified more than two decades ago, themechanism of action of CA-4 is still not fully elucidated. It should be mentioned that someCA-4 analogues and other VDAs are currently candidates in clinical trials. However, theystill present serious drawbacks that hamper their pharmaceutical validation, such as lowchemical stability and limited solubility. Therefore, the development of new VDAs with abetter pharmaceutical profile is critical...
Description
Tesis de la Universidad Complutense de Madrid, Facultad de Ciencias Químicas, Departamento de Química Orgánica, leída el 26-05-2017
Collections