Publication:
Cambio, Poder y Justicia de Género en la Agenda 2030: Reflexiones para no perdernos en el camino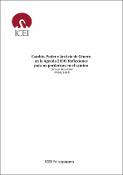 Authors
Advisors (or tutors)
Editors
Publisher
Instituto Complutense de Estudios Internacionales (ICEI)
Abstract
La igualdad de género como objetivo de desarrollo tiene hoy pleno reconocimiento en la agenda política global, reflejándose en numerosos compromisos pero también en una persistente retóri-ca. Los debates sobre una nueva Agenda 2030 para el desarrollo sostenible debería contribuir a una reflexión crítica sobre cómo acelerar los cambios necesarios para avanzar hacia una mayor justicia social y de género, reafirmando los derechos de las mujeres, y por otro, generar una opor-tunidad más que un riesgo para repensar las dimensiones económicas, sociales, culturales y políti-cas de la transformación hacia un desarrollo sostenible. Frente a estas aspiraciones, surgen una serie de interrogantes que sería necesario despejar. Este documento analiza los avances y desafíos para la realización de los derechos de las mujeres a 20 años de la aprobación e implementación de la Declaración y la Plataforma de Acción de Beijing, y hace un balance de los Objetivos de Desarrollo del Milenio (ODM) en clave de género para introducirnos en las propuestas que hoy se plant-ean para los próximos 15 años. Finalmente, analiza desde una perspectiva crítica los resultados alcanzados hasta el momento en la definición de una Agenda 2030 de Desarrollo Sostenible, a ser aprobada por la Cumbre de Desarrollo Sostenible en septiembre de 2015. Por último, unas breves reflexiones finales dejan planteadas algunas pistas para no perderse en el camino.
Today, the global development agenda widely recognizes gender equality as a development goal. That was translated not only into a number of commitments, but in a persistent rhetoric. The debates on a new 2030 Agenda for Sustainable Development should contribute, on one hand, to a critical reflection on how to make the necessary changes to accelerate progress for gender and social justice and to reaffirm women´s rights, and on the other, to create opportunities more than risks to rethink the political, cultural, social and economic dimensions of transformation to-wards sustainable development. Despite that, a number of questions are arising and needs to be answered. This paper critically assesses progress and challenges for women´s rights realization since 20 years of implementation of the Beijing Declaration and Platform for Action took place. In addition, the paper takes stock of Millennium Development Goals experience from a gender perspective to introduce us into the proposals for the next 15 years. The subsequent section analyses from a critical perspective the final draft document for a 2030 Agenda for Sustainable Develop-ment to be approved by the UN General Assembly in September 2015. It is in this context, that the paper concludes with final thoughts not to get lost in the debate.
Citation
Alonso, J. A (Dir.) (2013). Compromiso global por un desarrollo incluyente y sostenible. Consideraciones sobre la Agenda Post-2015. Madrid: Secretaría General de Cooperación Internacional para el Desarrollo. Documento de Trabajo 02. Bonder, G; Bareiro, L. Guzmán, V.; Pineda, M. y Vargas, V. (2015, 15 de Agosto). Ecos Feministas en la Conferencia de Beijing. Vivencias, reflexiones y visiones de futuro (pp. 11-25). En Di Pietro, P. (Coord). Decisiones en contextos de cambios: Interpretaciones e inspiraciones de la Conferencia de Beijing. Cuadernos del Área de género, sociedad y políticas. Serie Sinergias (en línea). Buenos Aires: FLACSO. Disponible en: http://issuu.com/catunescomujer.org/docs/archivo_definitivo_sinergias_beijin [15 de agosto, 2015]. Centre for Economic and social Rights (CESR) (2015). Strong commitments to human rights survive in final SDG text, despite sordid final compromises (en línea). NuevaYork: Donald, K. Disponible en: www.cesr.org [6 de agosto, 2015]. CEPAL (2013). Mujeres en la economía digital: superar el umbral de la desigualdad (en línea). Santiago de Chile: CEPAL. Disponible en: www.cepal.org [15 de julio, 2015]. CEPAL (2015a, 16 de marzo). A 20 años de la Declaración y la Plataforma de Acción de Beijing. Notas para la Igualdad (en línea). Santiago de Chile: CEPAL. Disponible en: www.cepal.org [19 de julio, 2015]. CEPAL (2015b). Informe regional sobre el examen y la evaluación de la Declaración y la Plataforma de Acción de Beijing y el documento final del vigésimo tercer período extraordinario de sesiones de la Asamblea General (2000) en los países de América Latina y el Caribe (en línea). Santiago de Chile: CEPAL. Disponible en: www.cepal.org [18 de julio, 2015]. Cornwall, A. y Edwards, J. (2015). How Feminist Activism Can Make States More Accountable for Women's Rights (en línea). Geneva: UNRIDS. Disponible en: www.unrisd.org [23 de julio, 2015]. De la Cruz, C. (2010). Financing for development and women's rights: a critical review. Brussels: WIDE. Fukuda-Parr, S. (2012). Recapturing the Narrative of International Development Geneva: UNRISD. Research Paper 2012–5 July. GAD Net (2015). Turning Promises into Progress. Gender equality and rights for women and girls - lessons learnt and actions needed (en línea). London: Gender and Development Network (GAD Net). Disponible en: http://gadnetwork.org/turning-promises-into-progress [20 de junio, 2015]. INSTRAW (2004). Gender Issues and Concerns in Financing for Development, Occasional Paper, 3. Santo Domingo: INSTRAW. NGO-CSW y ONU Mujeres (2015). A 20 años de la Plataforma de Acción de Beijing: objetivos estratégicos y esferas de preocupación (en línea). Nueva York: Documento Regional de la Sociedad Civil Beijing+20 América Latina y el Caribe. Disponible en: http://www.feim.org.ar/pdf/BEIJING+20-esp.pdf [15 de marzo, 2015]. ONU (2014). The Road to Dignity by 2030: Ending Poverty, Transforming All Lives and Protecting the Planet. Synthesis Report of the Secretary General on the Post-2015 Agenda (en línea). Nueva York: ONU. Disponible en: http://www.un.org/disabilities/documents/reports/SG_Synthesis_Report_Road_to_Dignity_by_2030.pdf [7 de junio, 2015]. ONU Mujeres (2013). Un Objetivo transformador e independiente para lograr la igualdad de género, los derechos y el empoderamiento de las mujeres: imperativos y componentes claves (en línea). Nueva York: ONU Mujeres. Disponible en: http://www.unwomen.org/es/what-we do/~/media/1BC05D2A7F7A4EF49E88F9FF05BE7002.ashx [18 de junio, 2015]. ONU Mujeres (2014, 5 de noviembre). Expert Group Meeting: 'Envisioning women's rights in the post-2015 context' (en línea). Nueva York: ONU Mujeres. Disponible en: www.unwomen.org/es/digital [27 de mayo, 2015]. ONU Mujeres (2015a). El Progreso de las Mujeres en el Mundo 2015-2016: Transformar las economías para realizar los derechos (en línea). Nueva York: ONU Mujeres. Disponible en: http://progress.unwomen.org/en/2015/pdf/SUMMARY_ES.pdf [4 de junio, 2015]. ONU Mujeres (2015b). Informe Resumido del Examen y evaluación de la aplicación de la Declaración y Plataforma de Acción de Beijing y los resultados del vigésimo tercer período extraordinario de sesiones de la Asamblea General. La Declaración y la Plataforma de Beijing cumplen 20 años (en línea). Nueva York: ONU Mujeres. Disponible en: http://www.unwomen.org/es/digital-library/publications/2015/02/beijing-synthesis-report#sthash.YrsUSR47.dpuf [30 de mayo, 2015]. PNUD y Levy Institute (2012). La interrelación entre los déficit de tiempo e ingreso. Revisando la medición de la pobreza para la generación de respuestas de políticas, Serie atando cabos, deshaciendo nudos. Panamá: PNUD y Levy Institute. Post-2015 Women's Coalition (2015). Feminist Sustainable Development: A Transformative Alternative for Gender Equality, Development and Peace (en línea). Nueva York: Post- 2015 Women's Coalition. Disponible en: www.post2015women.com [22 de julio, 2015]. Sanahuja, J.A. (2015). De los Objetivos del Milenio al desarrollo sostenible: Naciones Unidas y las metas globales post-2015. Madrid: CEIPAZ. UNRISD (2015). The New Cold War on Women's Rights (en línea). Geneva: Goetz. Disponible en: www.unrisd.org [16 de julio, 2015]. WIDE+ (2015, 23 de junio). Women's Human Rights and Gender Justice in the Post-2015 Era: The Role of WIDE+ and feminist organizations (en línea). Bruselas: WIDE+. Disponible en: http://wideplus.org [7 de agosto, 2015]. WOMANKIND (2015, 9 de marzo). At the crossroads. Women's rights after 2015 (en línea). Disponible en: www.womankind.org.uk [20 de julio, 2015]. Enlaces Web: www.post2015women.com www.wwgonffd.org www.womenmajorgroup.org http://wideplus.org/ http://www.awid.org www.americalatinagenera.org http://www.un.org https://rio20.un.org/sites/rio20.un.org/files/a-conf.216-l-1_spanish.pdf http://www.un.org/womenwatch