Publication:
Artistic reconstruction of the appearance of Prosantorhinus Heissig, 1974, the teleoceratine rhinoceros from the Middle Miocene of Somosaguas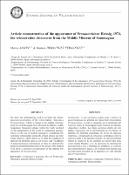 Advisors (or tutors)
Editors
Publisher
Sociedad Española de Paleontología
Abstract
We show the methodology used to perform the artistic palaeoreconstruction of the teleoceratine rhinoceros Prosantorhinus, which is found in the middle Miocene fossil site of Somosaguas-Norte (Pozuelo de Alarcón, middle Aragonian). Successive phases within this work involved (1) the interpretation of the fossils in comparative anatomy terms; (2) the use of modern analogues, considering the systematic relationships among the extinct species and their extant relatives, which allows us to infer the condition of unpreserved attributes such as soft tissues; and (3) addition of palaeoecological information in order to establish the palaeoenvironmental framework of the species. Our fi nished work shows a plausible reconstruction of the inferred life appearance of Prosantorhinus.
Mostramos la metodología usada para realizar la paleoreconstrucción artística del rinoceronte teleoceratino Prosantorhinus, el cual se encuentra en el yacimiento del Mioceno medio de Somosaguas-Norte (Pozuelo de Alarcón, Aragoniese medio). Las fases sucesivas dentro de este trabajo implicaron (1) la interpretación de los fósiles en términos de anatomía comparada; (2) el uso de análogos modernos, considerando las relaciones sistemáticas entre la especie extinta y sus parientes actuales, lo cual nos permitió inferir la condición de los atributos no preservados tales como tejidos blandos; y (3) la inclusión de información paleoecológica con la finalidad de establecer el contexto paleoambiental de la especie. El resultado fi nal muestra una reconstrucción plausible de la apariencia en vida inferida para Prosantorhinus.
Collections