Publication:
Radiative corrections to the Higgs potential in the LH model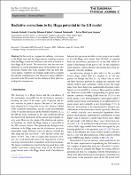 Advisors (or tutors)
Editors
Abstract
In this work we compute the radiative corrections to the Higgs mass and the Higgs quartic couplings coming from the Higgs sector itself and the scalar fields phi in the Littlest Higgs (LH) model. The restrictions that the new contributions set on the parameter space of the models are also discussed. Finally, this work, together with our three previous papers, complete our program addressed to compute the relevant contributions to the Higgs low-energy effective potential in the LH model and the analysis of their phenomenological consequences.
Description
© Springer-Verlag / Società Italiana di Fisica 2010. This work is supported by DGICYT (Spain) under project number FPA2008-00592 and by the Universidad Complutense/CAM: UCM-BSCH GR58/08 910309. The work of S.P. is supported by a Ramon y Cajal contract from MEC (Spain) and partially by CICYT (grant FPA2006-2315) and DGIID-DGA (grant 2008E24/2). The work of J.R.L. is supported by project number FIS200604885. We would like to thank J.R. Espinosa for useful discussions.
Citation
1. T. Aaltonen et al. (CDF Collaboration), Phys. Rev. Lett. 99,151801 (2007). arXiv:0707.0085 [hep-ex] 2. The Tevatron Electroweak Working Group (Tevatron Electroweak Working Group and CDF Collaboration and D0 Collab), arXiv:0803.1683 [hep-ex] 3. N. Arkani-Hamed, A.G. Cohen, E. Katz, A.E. Nelson, J. High Energy Phys. 0207, 034 (2002). hep-ph/0206021 4. H. Georgi, A. Pais, Phys. Rev. D 10, 539 (1974) 5. H. Georgi, A. Pais, Phys. Rev. D 12, 508 (1975) 6. M. Schmaltz, D. Tucker-Smith, Annu. Rev. Nucl. Part. Sci. 55, 229 (2005). hep-ph/0502182 7. M. Perelstein, Prog. Part. Nucl. Phys. 58, 247 (2007). hep-ph/0512128 8. M. Schmaltz, J. High Energy Phys. 0408, 056 (2004). hep-ph/ 0407143 9. H.C. Cheng, I. Low, J. High Energy Phys. 0408, 061 (2004). hep-ph/0405243 10. D.E. Kaplan, M. Schmaltz, J. High Energy Phys. 0310, 039 (2003). hep-ph/0302049 11. H.C. Cheng, I. Low, J. High Energy Phys. 0309, 051 (2003). hep-ph/0308199 12. I. Low, W. Skiba, D. Tucker-Smith, Phys. Rev. D 66, 072001 (2002). hep-ph/0207243 13. C. Csaki, J. Hubisz, G.D. Kribs, P. Meade, J. Terning, Phys. Rev. D 67, 115002 (2003). hep-ph/0211124 14. C. Csaki, J. Hubisz, G.D. Kribs, P. Meade, J. Terning, Phys. Rev. D 68, 035009 (2003). hep-ph/0303236 15. Z. Han, W. Skiba, Phys. Rev. D 72, 035005 (2005). hep-ph/ 0506206 16. H.E. Logan, Phys. Rev. D 70, 115003 (2004). hep-ph/0405072 17. T. Han, H.E. Logan, B. McElrath, L.T. Wang, Phys. Lett. B 563, 191 (2003) [Erratum-ibid. B 603, 257 (2004)]. hep-ph/0302188 18. J.L. Hewett, F.J. Petriello, T.G. Rizzo, J. High Energy Phys. 0310, 062 (2003). hep-ph/0211218 19. T. Gregoire, D.R. Smith, J.G. Wacker, Phys. Rev. D 69, 115008 (2004). hep-ph/0305275 20. M.C. Chen, S. Dawson, Phys. Rev. D 70, 015003 (2004). hep-ph/0311032 21. W. Kilian, J. Reuter, Phys. Rev. D 70, 015004 (2004). hep-ph/0311095 22. G. Marandella, C. Schappacher, A. Strumia, Phys. Rev. D 72, 035014 (2005). hep-ph/0502096 23. S.K. Kang, C.S. Kim, J. Park, Phys. Lett. B 666, 38 (2008). arXiv:0805.0179 [hep-ph] 24. M.C. Chen, Mod. Phys. Lett. A 21, 621 (2006). hep-ph/0601126 25. S.R. Choudhury, A.S. Cornell, N. Gaur, A. Goyal, hep-ph/ 0604162 26. J.A. Conley, J. Hewett, M.P. Le, Phys. Rev. D 72, 115014 (2005). hep-ph/0507198 27. C.O. Dib, R. Rosenfeld, A. Zerwekh, AIP Conf. Proc. 815, 296 (2006). hep-ph/0509013 28. Z. Berezhiani, P.H. Chankowski, A. Falkowski, S. Pokorski, Phys. Rev. Lett. 96, 031801 (2006). hep-ph/0509311 29. T. Han, H.E. Logan, B. McElrath, L.-T. Wang, Phys. Rev. D 67, 095005 (2003). hep-ph/0301040 30. M. Perelstein, M.E. Peskin, A. Pierce, Phys. Rev. D 69, 075002 (2004). hep-ph/0310039 31. A. Dobado, L. Tabares, S. Peñaranda, Eur. Phys. J. C 50, 647 (2007). hep-ph/0606031 32. A. Dobado, L. Tabares, S. Peñaranda, Phys. Rev. D 75, 083527 (2007). hep-ph/0612131 33. A. Dobado, L. Tabares, S. Peñaranda, Eur. Phys. J. C 58, 471 (2008). arXiv:0711.4471 [hep-ph] 34. F. Bazzocchi, M. Fabbrichesi, M. Piai, Phys. Rev. D 72, 095019 (2005). hep-ph/0506175 35. J.A. Casas, J.R. Espinosa, I. Hidalgo, J. High Energy Phys. 0503, 038 (2005) 36. A. Dobado, A. Gómez-Nicola, A.L. Maroto, J.R. Peláez, Effective Lagrangians for the Standard Model (Springer, Heidelberg, 1997) 37. A. Manohar, H. Georgi, Nucl. Phys. B234, 189 (1984) 38. M.A. Luty, Phys. Rev. D 57, 1531 (1998). hep-ph/9706235 39. A.G. Cohen, D.B. Kaplan, A.E. Nelson, Phys. Lett. B 412, 301 (1997) 40. J.R. Espinosa, J.M. No, J. High Energy Phys. 0701, 006 (2007). hep-ph/0610255
Collections