Publication:
Debates electorales y conflicto. Un análisis con máquinas de soporte virtual (SVM) de la cobertura mediática de los debates en España desde 2008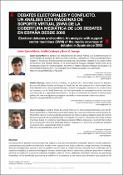 Advisors (or tutors)
Editors
Abstract
Los efectos de los debates electorales sobre las audiencias han sido extensamente estudiados desde el mundo académico, concluyéndose que pueden ser relevantes, no sólo a nivel cognitivo sino, incluso, sobre los comportamientos. Sin embargo, diversas investigaciones apuntan a que los posibles efectos sobre el comportamiento electoral están moderados por la cobertura mediática. La presente investigación muestra el efecto que tiene el número de candidatos presente en el debate electoral en España en la posterior cobertura mediática sobre el mismo. Utilizando innovadoras técnicas de aprendizaje automático, se ha identificado la presencia de conflicto en la cobertura de los medios para demostrar que cuando en los debates hay más de dos candidatos, los medios de comunicación tienden a centrarse en otros elementos, relegando los momentos más conflictivos a un segundo plano.
The effects of electoral debates on audiences have been extensively studied in the academia, having been concluded that they can be relevant, both in the cognitive and behavioural realm. However, various investigations suggest that media coverage can be a strong moderator of the possible effects on electoral behaviour. The present investigation shows the effect of the number of candidates present in the electoral debate in Spain in the subsequent media coverage. Using innovative machine learning techniques, the presence of conflict in media coverage has been identified to show that, when there are more than two candidates, media tend to focus on other elements, relegating the most conflictive moments to a secondary place.
Collections