Publication:
Realismo poscontinental: ontología y epistemología para el siglo XXI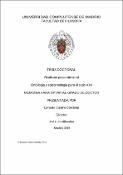 Files
Authors
Advisors (or tutors)
Editors
Publisher
Universidad Complutense de Madrid
Abstract
En esta tesis se analizan la ontología y la epistemología de los realistas poscontinentales. "Realismo poscontinental" es una expresión acuñada por nosotros para referirnos a un conjunto de filósofos recientes, normalmente agrupados bajo las etiquetas del "realismo especulativo" (Quentin Meillassoux, Ray Brassier Graham Harman, Iain Hamilton Grant) y del "nuevo realismo" (Maurizio Ferraris, Markus Ga-briel). El uso de la expresión "realismo poscontinental" es una declaración de intencio-nes acerca del enfoque adoptado en esta tesis. De los seis autores aquí expuestos se ana-liza principalmente su relación con la tradición filosófica continental (el idealismo ale-mán, la fenomenología, la hermenéutica, el posestructuralismo francés y el posmoder-nismo), así como su posición ante los problemas clásicos del realismo filosófico (el problema de la existencia del mundo externo y el problema del estatus de los conceptos universales). No en balde, el realismo filosófico es la posición filosófica que defiende que una cierta realidad existe independientemente de nosotros y, sin embargo, puede ser conocida por nosotros. El realismo filosófico se opone, por ende, tanto al nominalismo (que niega la existencia de esa cierta realidad) como al idealismo (que acepta su exis-tencia, pero niega su independencia respecto de nosotros), así como al escepticismo (que acepta tanto su existencia como su independencia, pero niega que pueda ser cono-cida por nosotros)...
In this thesis, we analyze the ontology and epistemology of the post-continental realists. "Post-continental realism" is an expression coined by us in order to refer to a group of recent philosophers, usually grouped together under labels such as "speculative realism" (Quentin Meillassoux, Ray Brassier, Graham Harman, Iain Hamilton Grant) or "new realism" (Maurizio Ferraris, Markus Gabriel). The use of the expression "post-continental realism" is a declaration of intent about the approach of this thesis. As for the six authors here exposed, we analyze mainly their relationship with continental philosophy (German idealism, fenomenology, hermeneutics, French post-estructuralism, and post-modernism), as well as their position on the classical problems of philosophical realism (the problem of the existence of the external world and the problem of the status of universal concepts). Not in vain, philosophical realism is the philosophical position that defends that certain reality exists independently of us and that, nevertheless, it can be known by us. Philosophical realism is opposed, therefo-re, both to nominalism (which denies the existence of that certain reality) and to idealism (which accepts its existence, but denies its independence from us), as well as to skepticism (which accepts both its existence as its independence; but, nevertheless, de-nies the possibility of its being known by us)...
Description
Tesis de la Universidad Complutense de Madrid, Facultad de Filosofía, leída el 05-12-2018
Collections