Publication:
Creación, gestión y uso de "objetos de aprendizaje" en los Sistemas Chasqui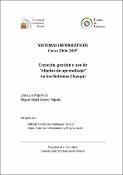 Advisors (or tutors)
Editors
Abstract
El proyecto "Creación, Gestión y Uso de "Objetos de Aprendizaje" en los Sistemas Chasqui" se ha desarrollado en la asignatura Sistemas Informáticos. Tiene como objetivo el análisis de la versión 2.0, actualmente en producción, del Museo Virtual basado en el Museo físico del Departamento de Historia de América II, de la Facultad de Geografía e Historia de la Universidad Complutense de Madrid. Este proyecto se centra en profundizar en el modo de trabajo de la nueva arquitectura utilizada a modo de prototipo para la construcción de una herramienta que sirva para la creación y gestión de recursos educativos, Objetos de Aprendizaje, modulares que puedan ser utilizados por diversos sistemas de enseñanza. [ABSTRACT] The proyect called "Creation, Management and Use of "Learning Objects" in the Chasqui Systems" has been developed into the subject "Sistemas Informáticos". The goal is to analyze the 2.0 version, currently in production, of the "Virtual Museum" based on the physical Museum of the Department of History of America II, located at the "Facultad de Geografía e Historia" of the Complutense University of Madrid. This project is centered in deepening in the way of work of the new architecture used as a prototype for the construction of a tool that is used for the creation and management as educative resources, Learning Objects, modular objects that they may be used by various learning systems.
Description
Trabajo de la asignatura Sistemas Informáticos (Facultad de Informática, Curso 2006-2007)
Collections