Publication:
Un modelo espacial de renta per capita regional: evidencias provincial, comarcal y municipal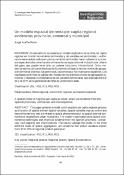 Authors
Advisors (or tutors)
Editors
Publisher
asociación española de ciencia regional
Abstract
En este artículo se presenta un modelo explicativo de la renta per capita regional en función de variables territoriales y de variables no territoriales. La diferencia entre ambas radica en que las variables territoriales hacen referencia a proce sos espaciales tales como las economías externas espaciales o el multiplicador urbano del gasto, que pueden tener tanto un carácter intra como interterritorial. Dicho modelo se estima utilizando técnicas de Econometría Espacial en tres niveles de agrega ción territorial distintos: las provincias, las comarcas y los municipios españoles. Los resultados confirman la validez del modelo en los distintos niveles de agregación territorial, y destacan la importancia de las variables territoriales, que explican entre el 30 y el 50 % de la generación de renta de un territorio dado.
This paper presents a model which explains per capita regional product as a function of spatial and non spatial variables. Spatial variables may act within and beyond its territory and are related to spatial phenomena such as spatial external economies or expenditure urban multipliers. The model is estimated using Spatial Econometrics techniques and empirical evidence from the Spanish provinces, «comarcas» (sub-regions) and municipalities. The results validate the model in the three different levels of spatial aggregation and underline that spatial variables explain from 30 to 50% of regional product generation
Citation
Bibliografía Administración Institucional de Servicios Socio-Profesionales (1977): Comarcas españolas. Servicio Nacional de Consejos Económico-Sociales. Madrid. Alañón Pardo, A. y Bueno Lastra, J. (2000): «Regional growth and regional imbalances», Documento de trabajo 2000-18. Facultad de Ciencias Económicas y Empresariales. Universidad Complutense de Madrid, Madrid. Alañón Pardo, A. (2001): La renta regional en España: análisis y estimación de sus determinantes, tesis doctoral inédita. Facultad de Ciencias Económicas y Empresariales. Universidad Complutense de Madrid, Madrid. Alañón Pardo, A. (2002): «Estimación del valor añadido per cápita de los municipios españoles en 1991 mediante técnicas de econometría espacial», Ekonomiaz, 51, 3er cuatrimestre. Anselin, L. (1988): Spatial econometrics: Methods and models, Kluwer Academic. Dordrecht. Arbia, G. (1989): Spatial data configuration in statistical analysis of regional economics and related pro blems, Kluwer Academic Publishers. Dordrecht. Browning, M. (1971): «The regional income multiplier: an attempt to complete the model», Scottish Journal of Political Economy, 20, 123-129. Bueno Lastra, J. (1990): Los desequilibrios regionales: teoría y realidad española, Pirámide. Madrid. Bueno Lastra, J. (2000): El crecimiento económico regional. Teoría y Realidad. España y Estados Uni dos, Instituto de Estudios Fiscales. Inédito, Madrid. Costa Campi, M. T. (1997): «El factor empresarial», en García Delgado (1997). Daly, M. C. (1940): «An aproximation to a geographical multiplier», The Economic Journal, 50, 249 258. García Delgado, J. L., dir. (1997): Lecciones de economía española, 3ª edición, Civitas, Madrid. Glaeser, E.; Kallal, H.; Scheinkman, J.; y Shleifer, A. (1992): «Growth in cities», Journal of Political Economy, 100, 1126-1152. Henderson, J. V.; Kunkoro, A. y Turner, M. (1992): «Industrial development in cities». NBER Working Paper, 4178. Holland, S. (1976): Capital versus the regions, The Macmillan Press Ltd. Londres. Instituto Geográfico Nacional (1995): Base de datos municipal, (disquete). Instituto Geográfico Nacional. Madrid. Instituto Nacional de Estadística, INE (1998): Contabilidad regional de España: base 1986: serie 1991 1996. Instituto Nacional de Estadística. Madrid. Instituto Nacional de Estadística, INE (1995): Los Municipios CERCA (Censos 1989-1991), CD-ROM, Subdirección General de Difusión Estadística, Instituto Nacional de Estadística. Madrid. Kollman, R. (1995): «The correlation of productivity growth across regions and industries in the United States», Economics Letters, 47, 437-443. López-Bazo, E.; Vayá, E.; Moreno, R., y Suriñach, J. (1998): «Grow, neighbour, grow, grow... neighbour be good!». Ponencia presentada en el 36º Congreso de la Asociación Europea de Ciencia Regional. Viena. Marshall, A. (1920): Principios de economía: un tratado de introducción, Aguilar. Madrid, 1957. 114 A. Alañón Pardo Myro Sánchez, R. y Ruiz Céspedes, T. (1999): «Concentración de la producción y liderazgo en la indus tria española», Economistas, 82,70-86. Myro Sánchez, R. (1997): «Crecimiento económico y cambio estructural desde 1960». En García Delgado (1997). Quah, D. T. (1996): «Regional convergence clusters across Europe», European Economic Review, 40, 951-958. Ribas y Piera, M.; Soler Llusa, J.; Lasuen, J. R.; y Racionero, L. (1974): Estudios de Economía Urbana. Instituto de Estudios Económicos. Madrid. Richardson, H. W. (1979): Regional and urban economics, Pitman Publishers. Londres. Scitovsky, T (1954): «Two concepts of External Economies», Journal of Political Economy, 63:153-145.
Collections