Publication:
Factores de riesgo de fístula pacreática. Posduodenopancreatectomía cefálica. Análisis de supervivencia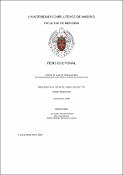 Files
Authors
Editors
Publisher
Universidad Complutense de Madrid
Abstract
La duodenopancreatectomía cefálica (DPC) constituye la intervención indicada para la resección de tumores que afectan a la cabeza del páncreas y a la región periampular. Actualmente, la tasa de complicaciones que conlleva la DPC puede llegar hasta un 55%. La fístula pancreática (FP) se establece como la entidad responsable de gran parte de esta morbilidad, ya que su incidencia puede llegar a alcanzar hasta un 20%.Clásicamente, los factores relacionados con la consistencia del páncreas, el diámetro del conducto pancreático y las pérdidas sanguíneas intraoperatorias, son los que mayor influencia han mostrado sobre la aparición de FP. Sin embargo, a pesar de la importante morbilidad que entraña esta intervención, en la actualidad, en centros especializados, se ha logrado reducir la mortalidad hasta llegar a un 2-4%...
Pancreaticoduodenectomy is indicated for the resection of the head's pancreatic tumors of the pancreas or periampular tumor.Currently, the pancreaticoduodenectomy's complications can be higher than 55%. The pancreatic fistula (PF) is the main cause of morbidity: about 20%.The factors which have shown the major influence on the appearance of PF related to the pancreatic consistence, the diameter of the pancreatic duct and intraoperative blood losses. However, in reference hospitals the mortality has been reduced to 2-4%...
Description
Tesis inédita de la Universidad Complutense de Madrid, Facultad de Medicina, Departamento de Cirugía, leída el 01/12/2020
Collections