Publication:
Otras aplicaciones docentes del Atlas Digital de Petrología Sedimentaria a través del Campus Virtual UCM (www.ucm.es/info/petrosed)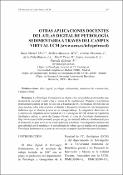 Authors
Peña Blasco, José Andrés de la
López Acevedo, Francisco Javier
Advisors (or tutors)
Editors
Publisher
Universidad Complutense de Madrid
Abstract
La Petrología Sedimentaria se adapta a las necesidades profesionales que demanda la sociedad y entre ellas el sector de la construcción. Preparar a los futuros profesionales plantea un reto no solo en la Facultad de CC. Geológicas (UCM) sino en otras muchas, sobre todo a la hora de diseñar y desarrollar el material y las herramientas didácticas que el alumno precisa en su autoaprendizaje. La asignatura Materiales de Construcción, impartida en la Facultad de CC. Geológicas (UCM) (Grado de Ingeniería Geológica), utiliza, a través de Campus Virtual, el Atlas de Petrología Sedimentaria: http://www.ucm.es/info/petrosed, ya que recoge un material didáctico fundamental para el desarrollo de gran parte de sus clases prácticas y teóricas. Esta asignatura muestra una gran afinidad con la temática y la metodología de trabajo que se emplea en la asignatura Petrología Sedimentaria, a pesar de pertenecer a campos científico-técnicos diferentes.
Citation
1] M.E. Arribas-Mocoroa, J. Arribas- Mocoroa, J.A. de la Peña Blasco, R. Marfil Pérez, M.J. Varas-Muriel, F.J. López-Acevedo, R. Estrella-Aliberas. "Atlas Digital de Microscopía Óptica de Rocas Sedimentarias (www.ucm.es/info/petrosed): un enlace de apoyo para las asignaturas de Petrología Sedimentaria en el Campus Virtual de la UCM". Campus Virtual Crece. VI Jornadas de Campus Virtual. A. Sanz, J.A. López-Orozco, L.P. Núñez (Eds.), Madrid, Servicio de Publicaciones UCM. 2011. pp. 65-71, CD-ROM [2] A.E. Adams, W.S. Mackenzie, C. Guildford. Atlas of Sedimentary Rocks under the microscope. Prentice Hall, Longman, Harlow, Essex, UK ,1984. 104 p. [3] A.E. Adams, W.S. Mackenzie. Carbonate Sediments and Rocks under themicroscope. Manson Publising, London, UK, 2001. 184 p. [4] W.S. Mackenzie, A.E. Adams, Atlas en color de rocas y minerales en lámina delgada. Masson S.A. Barcelona, 1997. 215 p. [5] K.L. Milliken, S.J. Choh, E.F. Mcbride. Sandstone Petrology. A Tutorial Petrographic Image Atlas. AAPG, Discovery Series, 6. Tulsa, Oklahoma. 2002. CD-ROM [6] P. Garcia-Garmilla, A. Aranburu, J.A. Ibáñez-López. Atlas para prácticas de Petrología Sedimentaria. UPV-EHU 2005. CD-ROM [7] J. Ingham. Geomaterials ander the microscope. A color guide. Anson Publising, London, UK, 2010. 192 p.
Collections