Publication:
Alter Nos del Rey : la representación del poder de los virreyes en el reinado de Felipe II (1556-1598)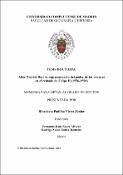 Authors
Advisors (or tutors)
Nunes Bentes Monteiro, Rodrigo
Editors
Publisher
Universidad Complutense de Madrid
Abstract
En la segunda mitad del siglo XVI, la Monarquía Hispánica de Felipe II (1556-1598) se constituyó como un mosaico político, social, cultural y económico. La extensión de sus dominios y el personalismo de su política definieron el sistema virreinal como el modelo más apropiado para el gobierno de territorios tan distantes y que carecían de la figura y personificación del poder real, al mismo tiempo que respetaba la autonomía de sus instituciones y sus jurisdicciones. A su regreso de Flandes en 1559, Felipe II nunca más pisó en los reinos fuera de la Península Ibérica. Además de la importancia gubernamental y administrativa, el virrey personificaba y presentificaba la representación física del poder político del monarca ausente como su alter ego durante celebraciones y ceremoniales y delante de los súbditos y las instituciones políticas de cada territorio. Como más elevado representante de la Corona, la figura del virrey fue celebrada y exaltada en la producción de la cultura visual que enaltecían su imagen. Es por ello que el presente trabajo propone un estudio sobre los virreyes de Aragón, Nápoles, Nueva España, Perú y Portugal al largo del reinado de Felipe II, analizando las representaciones visuales de sus alter nos en retratos pintados, grabados, medallas, esculturas y entradas solemnes dentro de la Monarquía Hispánica. Se analizará la imagen de los virreyes con el propósito de comprender las posibles particularidades de cada una de sus representaciones, así como, siempre que sea posible, analizar la "contra imagen" de los virreyes, es decir, la producción de imágenes críticas a sus gobiernos.
In the second half of the 16th century, the Hispanic Monarchy of Philip II (1556-1598) was constituted as a political, social, cultural and economic mosaic. The extension of its dominions and the personalism of its politics defined the vice-kingdom system as the most appropriate model for the government of such distant territories that lacked the figure and personification of royal power, while respecting the autonomy of its institutions and their jurisdictions. Upon his return from Flanders in 1559, Philip II never left the kingdoms outside the Iberian Peninsula. In addition to governmental and administrative importance, the vice-king personified and presented the physical representation of the political power of the absent monarch as his alter ego during celebrations and ceremonies and in front of the subjects and political institutions of each territory. As the highest representative of the Crown, the figure of the vice-king was celebrated and exalted in the production of visual culture that exalted his image. That is why the present work proposes a study on the vice-king of Aragon, Naples, New Spain, Peru and Portugal throughout the reign of Philip II, analyzing the visual representations of their alter nos in painted portraits, engravings, medals, sculptures and solemn entries into the Hispanic Monarchy. The image of the vice-kings will be analyzed to understand the possible peculiarities of each of their representations, as well as, whenever possible, analyze the "counter image" of the viceroys, that is, the production of images critical of their governments.
Description
Tesis inédita de la Universidad Complutense de Madrid, Facultad de Geografía e Historia, leída el 12-05-2022
Collections