Publication:
Molecular pattern recognition receptors: approaches from computational chemistry for drug design and innate immunity modulation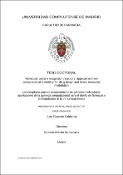 Authors
Advisors (or tutors)
Editors
Publisher
Universidad Complutense de Madrid
Abstract
In this Thesis we have aimed the study of the molecular recognition processes of receptors involved in the innate immunity. More concretely, we have focused in two different types of lectins, Galectins and DC-SIGN, and in Toll-like receptor 4. We have made use of computational techniques, including docking and virtual screening, molecular dynamics simulations, conformational analysis and quantum mechanics calculations. The work has been organized into several chapters that are summarized as follows: Chapter 1 corresponds to the current knowledge and perspectives about receptors related to immunity, in particular: galectins, DC-SIGN, and Toll-like receptor 4, corresponding to the molecular recognition events and modulation by small molecules. Chapter 2 describes the state-of-the-art methods in molecular modeling and computational chemistry applied to the study of molecular recognition processes and drug design...
En esta tesis hemos estudiado los procesos reconocimiento molecular de receptores involucrados en la inmunidad innata. Más concretamente, nos hemos centrado en dos tipos diferentes de lectinas, Galectinas y DC-SIGN, y en el receptor Toll-like 4 (TLR4). Hemos utilizado técnicas computacionales, incluyendo docking y cribado virtual, simulaciones de dinámica molecular, análisis conformacional y cálculos de mecánica cuántica. El trabajo se ha organizado en diferentes capítulos que se resumen como sigue: El capítulo 1 corresponde al estado del arte y las perspectivas relacionadas con los estudios de reconocimiento molecular proteína-carbohidrato y diseño de nuevos moduladores con actividad biológica en receptores de la inmunidad, en particular galectinas, DC-SIGN y el receptor Toll-like 4. El capítulo 2 describe el estado actual de los métodos en modelado molecular y química computacional aplicados al estudio de los procesos de reconocimiento molecular y diseño de fármacos...
Description
Tesis inédita de la Universidad Complutense de Madrid, Facultad de Farmacia, Departamento de Química Orgánica y Farmacéutica, leída el 18/11/2019
Collections