Publication:
Sincronización paralela de trayectorias para detección de conflictos entre aeronaves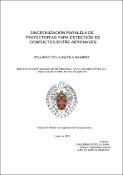 Authors
Advisors (or tutors)
Editors
Abstract
El transporte aéreo es un sector clave para la sociedad y la economía. Los sistemas de control de tráfico aéreo tienen la necesidad de mejorar sus capacidades y contribuir al desarrollo de nuevas tecnologías ante la cada vez mayor demanda del espacio aéreo. Las complejas rutas que siguen las aeronaves en el cielo necesitan ser monitorizadas y alteradas en tiempo real por diversas razones, como la eficiencia en las operaciones, la seguridad y la sostenibilidad. El objetivo de este trabajo es un estudio de viabilidad del problema real de sincronización paralela de trayectorias en aviónica. En este contexto, las unidades de procesamiento gráfico (GPUs) son una poderosa herramienta que puede permitir mejorar estos algoritmos en términos de eficiencia y rendimiento. Tratamos de identificar cuándo el uso de un algoritmo paralelo resulta beneficioso con respecto a uno equivalente que resuelve el problema de forma secuencial y cómo se adaptan dichos algoritmos para ser ejecutados en una GPU. El trabajo parte de un estado del arte actual, haciendo uso de conceptos validados por expertos dentro del marco de SESAR (Single European Sky ATM Research), ambicioso programa de investigación y desarrollo llevado a cabo por la Unión Europea, EUROCONTROL y las más relevantes empresas privadas de la industria aeronáutica. Los conceptos usados principalmente son: Extended Projected Profile (EPP), Air Ground Data Link (AGDL) y Automatic Dependent Surveillance - Contract (ADS-C), gracias a los cuáles se puede obtener una trayectoria estimada por la aeronave en tiempo real y usarla como base de nuestra investigación. [ABSTRACT] Air transport is a key sector for our society and economy. Air Traffic Control Systems should improve their capabilities and contribute to development of new technologies to the increasing demand of the airspace. The complex routes followed by the aircrafts in the sky need to be monitored and changed in real time for various reasons such as operational efficiency, safety and sustainability. The aim of this work is to investigate the use of parallel algorithms for comparing aircraft trajectories. In this context, graphics processing units (GPUs) are a powerful tool that could improve these algorithms in efficiency and performance terms. We try to identify when the use of the parallel capacities in novel hardware devices are more beneficial to aim in Air Traffic Control Systems. This project starts from the last Air Traffic Control state of the art, using concepts validated by experts within the framework of SESAR (Single European Sky ATM Research), ambitious research and development program undertaken by the European Union, EUROCONTROL and the most relevant companies of aviation industry. Due to use of the following concepts: Extended Projected Profile (EPP), Air Ground Data Link (AGDL) and Automatic Dependent Surveillance - Contract (ADS-C), we can obtain an estimated trajectory from the aircraft in real time and use it as our base of researching.
Description
Máster en Investigación en Informática, Facultad de Informática, Departamento de Arquitectura de Computadores y Automática, curso 2012-2013