Publication:
El tedio y la banalidad del mal: un malestar del hombre contemporáneo en el pensamiento de Erich Fromm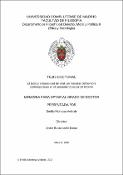 Files
Authors
Advisors (or tutors)
Editors
Publisher
Universidad Complutense de Madrid
Abstract
Esta Tesis Doctoral es una investigación acerca de la relación existente entre el concepto de tedio propuesto por Erich Fromm y la noción de banalidad del mal acuñada por Hannah Arendt. Esta relación se nos muestra en la sociedad contemporánea en la que el hombre moderno aparece como un ser indiferente hacia el mundo y hacia los demás y cuyo carácter es moldeado por fuerzas sociales arrastrándole a una forma de vida basada en lo material o en lo que Fromm denomina modo del tener. Queda, así, la vida espiritual del hombre relegada a un segundo plano, lo que conlleva, a la vez, el surgimiento de una suerte de aburrimiento patológico vital o existencial. En cierto modo, la pasividad, el incipiente malestar, o el estilo aburrido de nuestra vida actual, unido a la despersonalización o el auge del nihilismo en la Posmodernidad ha dado lugar a una polarización que va en aumento, tanto en el mundo occidental como en los países incipientes. Es decir, en un lado nos encontramos con las personas que se sienten atraídos por el poder y la fuerza, o los métodos burocráticos. En el otro lado, aquellas personas, que sienten un profundo amor por la vida y que buscan nuevos retos en lugar de esquemas y planes mecánicamente estipulados...
This Doctoral Thesis is a research work about the relationship between the concept of 'boredom' proposed by Erich Fromm and the notion of banality of evil coined by Hannah Arendt. The aforementioned relationship is shown in a contemporary society in which modern indivudual appears as an indifferent being towards the world and the others. Besides, his character is moulded by social forces, guiding it to a way of life based on material aspects or the having mode, named by Fromm. Thus, spiritual human life remains relegated to a second level, which entails the emergence of some kind of vital or existential pathological boredom. In this research work, it has been provided a context for different aspects of both 'tedium' and thinkers who concentrate on its nature. This has been done in order to show a more philosophical vision on the topic and its radical quandary for mankind...
Description
Tesis inédita de la Universidad Complutense de Madrid, Facultad de Filosofía, Departamento de Filosofía del Derecho, Moral y Política II (Ética y Sociología), leída el 13-06-2017
Collections