Publication:
Entre la memoria y el olvido: el caso de una colonia industrial en la ciudad de Puebla, México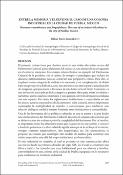 Authors
Advisors (or tutors)
Editors
Publisher
Universidad Complutense de Madrid, Servicio de Publicaciones
Abstract
El presente trabajo tiene por objetivo mostrar una visión alternativa acerca del Patrimonio Cultural, particularmente del industrial, tan alejado de su salvaguarda en el contexto mexicano. Este ensayo intenta ilustrar un ejemplo del Patrimonio Cultural de la periferia, con el ánimo de romper el paradigma que incluye un discurso patrimonialista para así construir una perspectiva crítica. Para ello, se empleará como categoría de análisis a la memoria y en complemento, el olvido bajo una perspectiva dialéctica, cuyo mecanismo es necesario para la actualización de imágenes, apropiaciones y discursos de esta historia local fabril. Asimismo, es una invitación para aplicar dicha categoría y generar ideas para mirar los relatos y narrativas que los sujetos construyen, y son quienes conviven de manera cotidiana con este espacio. Por tanto, los reglamentos, instituciones y especialistas no son los únicos actores responsables de dictaminar el valor cultural, sino es importante contemplar la multiplicidad de miradas y concepciones para establecer una relación dialógica cordial y romper fronteras entre instituciones y comunidades. Una de las desventajas de las políticas culturales es que se asume o da por hecho una visión unívoca del Patrimonio Cultural, así como el conjunto de acciones que se deberá acatar sin evaluar a priori la complejidad del fenómeno. Por tal motivo, es importante mirar los diferentes textos que se generan en este ámbito y conocer a fondo lo polisemia o la diversidad de significados que se le atribuye al territorio, vestigio, conjunto arquitectónico, sitio arqueológico, etc. En consecuencia, se propone un estudio que contemple este modelo de análisis para construir una visión propositiva más allá del sesgo institucional y/o burocrático. El sitio industrial en cuestión, el cual se presenta en esta comunicación ubica sus inicios desde las primeras décadas del siglo XIX, en el cual se construyó una fábrica textil y fue tejiendo una zona habitacional para sus obreros y familias, convirtiéndose en una colonia de la ciudad de Puebla equipada con lo necesario para conformar un territorio industrial.
The aim of the present work is to provide an alternative vision of Cultural Heritage, particularly industrial heritage, so far from being safeguarded in the Mexican context. This essay tries to illustrate an example of Cultural Heritage of the periphery, in order to break the paradigm that a heritage discourse includes, and thus building an alternative perspective. To that end, remembrance will be used as analysis category and additionally, oblivion under a dialectical perspective, whose mechanism is necessary for updating images, appropriations and discourse of this local industrial history. Furthermore, it is an invitation to apply such category and generate ideas to look at stories and narratives constructed by individuals, who share that space on a daily basis. Thus, regulations, institutions and specialists are not the only ones responsible for determining cultural value, it is also important to take into account the multiple conceptions and points of view in order to establish a kind of dialogical relationship between institutions and communities. One of the disadvantages of cultural policies is that a "one-voice" vision of Cultural Heritage is taken for granted, as well as the set of actions to be carried out without the complexity of the phenomenon being evaluated a priori. This is why it is important to go through the different texts generated in relation to this topic and to gain indepth knowledge of the polysemy or diversity of meanings attributed to territory, vestige, architectural complexity, archaeological site, etc. Consequently, a study that takes into account this analytical model is proposed in order to build an assertive vision beyond institutional and/ or bureaucratic bias. The industrial area in question, presented in this study, has its origin in the first decades of the 19th century, when a textile factory was built and a residential zone for workers and their families was created, thus becoming a colony in the city of Puebla furnished to form an industrial territory.
Collections