Publication:
El metamorfismo de los afloramientos paleozoicos de las Sierras de Rata, Mojón Alto, Albarracín, Menera y Ventosa en la Cordillera Ibérica (Provincias de Guadalajara y Teruel)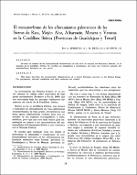 Authors
Advisors (or tutors)
Editors
Publisher
Instituto Geológico y Minero de España (Madrid)
Abstract
Se hace un análisis de las características metamórficas de una serie de macizos del Paleozoico Inferior, en el dominio de la Cordillera Ibérica. Se estudian las paragénesis y condiciones, así como una evolución espacial, del metamorfismo hercínico en este sector.
This paper describes the metamorphic characteristics of a Lower Paleozoic outcrops in the Iberica Range. The paragenesis, physical conditiorn;; and their evolution are studied.
Collections