Publication:
Risk Attitude in Multicriteria Decision Analysis: A Compromise Approach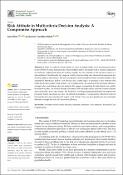 Advisors (or tutors)
Editors
Abstract
In fields on which decisions need to be taken including health, as we are seeing nowadays in the COVID-19 crisis, decision-makers face multiple criteria and results with a random component. In stochastic multicriteria decision-making models, the risk attitude of the decision maker is a relevant factor. Traditionally, the shape of a utility function is the only element that represents the decision maker's risk attitude. The eduction process of multi-attribute utility functions implies some operational drawbacks, and it is not always easy. In this paper, we propose a new element with which the decision maker's risk attitude can be implemented: the selection of the stochastic efficiency concept to be used during a decision analysis. We suggest representing the risk attitude as a conflict between two poles: risk neutral attitude, associated with best expectations, and risk aversion attitude, associated with a lower uncertainty. The Extended Goal Programming formulation has inspired the parameter that is introduced in a new risk attitude formulation. This parameter reflects the trade-off between the two classical poles with respect to risk attitude. Thus, we have produced a new stochastic efficiency concept that we call Compromise Efficiency.
Collections