Publication:
Rapid runtime power and performance profiling of large scale applications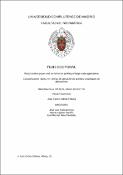 Files
Advisors (or tutors)
Moya Fernádez, José Manuel
Editors
Publisher
Universidad Complutense de Madrid
Abstract
Data centers are one of the most power hungry sections of the Information and Communications Technologies (ICT) sector. In the U.S. in 2014, data centers consumed around the 1.8% of the total U.S. electricity consumption. Worldwide data centers consumed in 2015 around 200 TWh of the global electricity usage. This electricity consumption is expected to increase to around 1200 TWh in 2025, which would represent 4.% of the global electricity usage. One of the mejor contributors to the overall data center power is the IT or computing power, therefore there is a special interest to imporve its energy efficiency. Scientific community has developed energy efficient techniques to reduce the energy consumption of IT equipment, such as resource management, power budgeting or power capping...
Los centros de datos son una de las secciones del sector de Tecnologías de la Información y Comunicaciones (TIC) que tienen mayor consumo energético. Durante el año 2014 en EE.UU., los centros de datos consumieron alrededor del 1.8% del consumo eléctrico total en dicho país. A nivel mundial, los centros de datos representaron en el añó 2015 alrededor de 200TWh respecto al consumo eléctrico mundial. Según estimaciones, este consumo eléctrico puede aumentar hasta unos 1200 TWh en año 2025, lo que representaría el 4.5% del consumo eléctrico global. Uno de los mayores contribuidores al consumo global en los centros de datos es el representado por los equipos de computación o consumo de IT. A nivel computacional, se han desarrollado diversas técnicas para reducir el consumo de IT como pueden ser, la gestión de recursos, presupuestos de potencia y la limitación de consumo de los servidores ubicados en los centros de datos...
Description
Tesis de la Universidad Complutense de Madrid, Facultad de Informática, leída el 19/01/2021
Collections