Publication:
Versión castellana de la Vida de santo Domingo de Guzmán del códice de Santo Domingo el Real de Madrid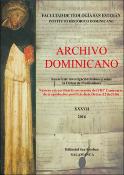 Advisors (or tutors)
Editors
Abstract
Ofrecemos una edición crítica de la Vida de santo Domingo de Guzmán contenida en un manuscrito del monasterio de religiosas dominicas contemplativas de Santo Domingo el Real de Madrid. Se trata de la más antigua versión conocida en prosa en lengua castellana, que se encuentra en un códice junto con otras dos vidas de santos de la Orden de Predicadores y otros textos piadosos. Además del texto de dicha Vida, con noticia de sus fuentes, se ofrece un análisis codicológico y paleográfico, se detalla lo que contiene y se conjetura sobre su datación, su autoría y sus destinatarios.
Our purpose is to provide a reliable and critical edition of the Life Story of Saint Dominic of Guzmán contained in a surviving manuscript at the Royal Saint Dominic's monastery of contemplative Dominican nuns in Madrid. It is the oldest known version in Castilian language prose, which is in a Codex together with other two lives of saints of the Order of Preachers and some other pious texts. In addition to the text of the above Life Story and its sources, a palaeographic and codicological analysis is offered, detailing what it contains and guessed its dating, authorship and recipients.
Collections