Publication:
La seguridad energética como factor relevante para el desarrollo de la autonomía estratégica de la UE (2014-2021)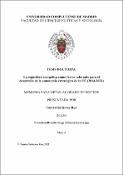 Files
Authors
Advisors (or tutors)
Editors
Publisher
Universidad Complutense de Madrid
Abstract
La energía es un elemento central del desarrollo humano. Sin ella, las sociedades modernas no existirían tal y como las conocemos, el crecimiento económico estaría condicionado por los límites de la capacidad física humana y el bienestar social se encontraría en índices previos a los de la Revolución Industrial. En el último siglo, los cambios en los sistemas productivos, los procesos globalizadores y la expansión de la sociedad de consumo han llevado a un incremento constante de las necesidades mundiales de energía, haciendo de su acceso y control un componente clave de la seguridad nacional. Sin embargo, la preponderancia de los combustibles fósiles en la economía mundial también ha provocado en muchos Estados una situación de dependencia endémica. Gran parte de los países industrializados no disponen de reservas de hidrocarburos, lo que implica que su estabilidad económica y social dependen, en buena medida, de su capacidad para asegurar su suministro constante y a precios asequibles. Esto ha llevado a una politización de los mercados internacionales del petróleo y del gas natural, un sistema parcialmente intervenido, complejo e inestable en el que los Gobiernos utilizan los recursos como herramientas de poder para defender sus intereses en la escena global...
Energy is a main element of human development. Without energy, modern societies would not exist in the way we know them nowadays, the economic growth would be constrained by the limits of human physical ability and social welfare would find itself in prior Industrial Revolution rates. In the last century, the changes in the productive systems, the globalising processes and the spread of consumption society have led a constant increase of the worldwide necessity of energy. These have produced the access and control of energy have become a key in national security.However, the preponderance of fossil fuel in the global economy has led many countries to a situation of endemic dependence. A large number of industrialised countries have not got hydrocarbon reserves. This situation means that the national economic and social stability largely depends on its capacity to secure the constant supply and do it with affordable prices of energy. This has led to a politicization of the international markets of petroleum and natural gas, a system which is partially intervened, complex and changeable in which countries use the resources as a power tool to be able to defend their own interests on the global scene...
Description
Tesis inédita de la Universidad Complutense de Madrid, Facultad de Ciencias Políticas y Sociología, leída el 06-05-2022
Collections