Publication:
La protección transfronteriza de los bienes inmateriales en el comercio internacional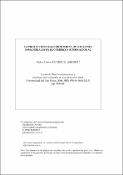 Authors
Advisors (or tutors)
Editors
Publisher
Universidad del País Vasco
Abstract
RESUMEN Pese a los logros de los convenios internacionales en materia de propiedad industrial e intelectual, no se ha superado el modelo basado en la territorialidad. La creciente complejidad de las actividades de explotación e infracción de los bienes inmateriales y su alcance típicamente internacional han contribuido a acentuar el debate sobre la revisión de su tratamiento en los sistemas de Derecho internacional privado, al tiempo que han dado lugar a un interés por desarrollar estándares internacionales que favorezcan una más eficaz tutela transfronteriza. En este contexto, se analiza el alcance de la competencia judicial internacional en las distintas categorías de litigios relativos a la existencia, explotación y tutela de los bienes inmateriales, valorando las posibilidades de que un tribunal conozca de reclamaciones relativas a infracciones en varios países. Con respecto al régimen de tutela y la determinación de la ley aplicable en las diversas categorías de litigios relevantes, son objeto de análisis las disposiciones de los Reglamentos Roma II y Roma I y su impacto sobre los sistemas nacionales. Las posibles alternativas al criterio que impone la aplicación distributiva de las leyes de los países para los que se reclama la protección cobran especial relevancia debido a que la aplicación de múltiples leyes puede dificultar en la práctica la obtención de una tutela adecuada. Habida cuenta de la creciente importancia del arbitraje, se aborda el aspecto más controvertido que suscita en el ámbito de los litigios sobre bienes inmateriales, como es la arbitrabilidad y sus límites. Asimismo, son objeto de atención las cuestiones específicas que la ejecución de decisiones judiciales y laudos arbitrales extranjeros plantea en las controversias sobre bienes inmateriales. ABSTRACT Notwithstanding the high level of cooperation achieved in the field of intellectual property, international conventions in this area have not abandoned the basic principle of territoriality. Under the current global context, commercial exploitation of IP rights has become typically multiterritorial and also infringements of IP rights are increasingly international. Hence a trend has developed to review the traditional criteria relating to jurisdiction and applicable law in IP litigation, with a view to establish international standards that facilitate adjudication of multiterritorial IP claims in a single court. In this connection, the study discusses from a comparative perspective the international jurisdiction of courts in the EU to adjudicate IP claims, an area in which significant issues remain controversial and the recent case law of the ECJ has raised an intense debate. As regards applicable law, the study focuses on the consequences of the recently adopted Rome II and Rome I Regulations for the determination of the law applicable to IP disputes. Possible limitations and alternatives to the basic criterion leading to the distributive application of the laws of the several protecting countries to infringing activities in more than one country are considered. The increasing role of arbitration in international cross-border IP disputes may be negatively affected by the uncertainty as to the limits to the arbitrability of IP disputes. Finally, the specific issues raised by the enforcement of foreign judgments and arbitral awards in the field of IP litigation are also discussed.
Collections