Publication:
EDECUA: Educación emocional de los estudiantes del Diploma Liceo - Especialidad de Cuidado de Animales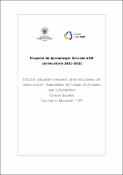 Advisors (or tutors)
Editors
Abstract
Una de las especialidades del Diploma Universitario de la UCM Liceo, que se imparte en la Facultad de Educación-CFP para estudiantes con discapacidad intelectual, es el Cuidado de Animales. El presente proyecto se vertebró a partir de la instalación y mantenimiento de un acuario por parte de los estudiantes que cursan la anterior especialidad. Considerando que estos estudiantes, como futuros cuidadores de animales, deben gestionar las emociones generadas en un breve periodo de tiempo y que guarden relación con la prevención del maltrato animal, la eutanasia, la marcha de un animal con el que se han vinculado, etc.; los estudiantes de Pedagogía desarrollaron proyectos para ayudarles mediante la metodología Design for Change (DFC). Gracias a una propuesta pedagógica DFC y Aprendizaje-Servicio se ha incentivado a los estudiantes a comprometerse con la transformación de los problemas reales que tienen lugar en su entorno. En esta línea, y a lo largo de las distintas fases que configuraron el desarrollo de sus proyectos, se comprometieron con una práctica social cuyo elemento motivador es la preocupación por las condiciones de la vida de los animales o la preservación del medioambiente.
One of the specialties of the UCM Liceo University Diploma, which is taught at the Faculty of Education-CFP for students with intellectual disabilities, is Animal Care. The present project was structured from the installation and maintenance of an aquarium by the students who are studying the previous specialty. Considering that these students, as future animal caretakers, must manage the emotions generated in a short period of time and that are related to the prevention of animal abuse, euthanasia, the departure of an animal with which they have been linked, etc.; Pedagogy students developed projects to help them through the Design for Change (DFC) methodology. Thanks to a DFC and Service-Learning pedagogical proposal, students have been encouraged to commit to transforming the real problems that take place in their environment. In this line, and throughout the different phases that shaped the development of their projects, they committed to a social practice whose motivating element is concern for the living conditions of animals or the preservation of the environment.