Publication:
Tiempos de posverdad: ¿qué verdades son posibles en política?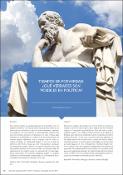 Authors
Advisors (or tutors)
Editors
Publisher
Asociación Latinoamericana de Investigadores en Campañas Electorales (ALICE)
Abstract
Este artículo analiza la popularizada idea de "posverdad" como un régimen de discurso en el que la naturaleza verdadera o falsa de los hechos deviene irrelevante en favor de otras dimensiones emocionales o políticas. Con este propósito, se contextualiza la cuestión como parte del problema, perenne en la historia de las ideas políticas, para delimitar las posibilidades de verdad en los discursos políticos. Se rescatan algunas reflexiones clave al respecto, como la crítica socrática al sofismo, la "objetividad" posible en Ciencias Sociales, la diferencia entre hechos y juicios de valor o las peculiares cualidades del pensamiento político. Además, se proponen diversas causas que han podido contribuir a los recientes avances hacia la posverdad: la radicalización del conflicto social, la expansión del principio igualitario democrático, la revolución tecnológica digital o el impulso neoliberal al individualismo desentendido y a la invasión de la racionalidad instrumental en el mundo de la vida.
This article analyses the popular idea of "post–truth" as a discourse regime in which the true or false nature of facts becomes irrelevant in favour of emotional or political factors. Here, this issue is contextualized as part of one of the perennial problems in the History of Political Ideas: that on the delimitation of the possibilities of truth in political discourse. In this sense, it recovers some key reflections on the matter, such as the Socratic critic to sofism, the kind of objectivity that is possible in Social Science or the difference between facts and value judgements o the particularities of political thought. Moreover, several causes are suggested to explain the recent advances of post-truth: the radicalization of social conflict, the expansion of the democratic egalitarian principle, the digital technological revolution or the neoliberal boost to uncompromised individualism and the invasion of instrumental rationality into the lifeworld.
Collections