Publication:
Aspectos temporales de la visión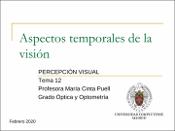 Advisors (or tutors)
Editors
Abstract
En este tema se estudia la sensibilidad a los cambios temporales en el contraste describiendo primero las características de la rejilla de onda sinusoidal temporal y después la función de sensibilidad al contraste temporal. Se describe el concepto de frecuencia crítica de fusion (FCF) y cuáles son los efectos de la iluminación retiniana (ley de Ferry-Porter) y área del estímulo (ley de Granit-Harper) en la FCF. También se describen las fases de latencia, establecimiento y persistencia de la evolución de la sensación luminosa.
This topic studies the sensitivity to temporal changes in contrast by first describing the characteristics of the temporal sine wave grating and then the temporal contrast sensitivity function. The concept of critical flicker frequency and what are the effects of retinal illumination (Ferry-Porter law) and the area of stimulation (Granit-Harper law) on FCF are described. The phases of latency, establishment and persistence of the evolution of the luminous sensation are also described.