Publication:
Símbolos religiosos institucionales, neutralidad del Estado y protección de las minorías en Europa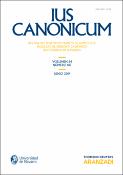 Authors
Advisors (or tutors)
Editors
Abstract
Este trabajo analiza la cuestión de los símbolos religiosos desde la perspectiva del significado que se atribuye a la neutralidad religiosa del Estado, apuntando que la neutralidad no puede entenderse como un principio constitucional uniforme, impuesto a nivel europeo, que contenta un concreto concepto de cómo han de organizarse las relaciones entre Estado y religión. El autor expresa su acuerdo con el fallo de la Grand Chamber del Tribunal Europeo de Derechos Humanos, aunque indica que el Tribunal debería haber desarrollado más la idea de que el criterio para decidir si existe violación de la libertad de religión y creencias es la coerción, y no el sentimiento subjetivo de ofensa que algunas personas pueden experimentar ante la presencia de ciertos símbolos religiosos. El trabajo, además de analizar la jurisprudencia del TEDH, se refiere a la posición adoptada en materia de simbología religiosa por algunos tribunales nacionales, en concreto españoles y alemanes.
This article examines religious symbols from the perspective of what is meant by state neutrality in religious matters and argues that neutrality cannot be a uniform constitutional principle, enforced at the European level, which asserts a particular view of how the relations between state and religion should be structured. It argues that the judgement of the Grand Chamber of the European Court of Human Rights in Lautsi II was correct but that the Court could have further developed the idea that coercion should be the test for a violation of freedom of religion or belief, rather than the subjective feeling of offence some individuals may experience in relation to some religious symbols. In addition to looking at the jurisprudence of the European Court of Human Rights, the article also addresses rulings issued by national courts in EU member states, with a particular emphasis on the approaches taken in Spain and Germany.
Collections