Publication:
Quantum conditional probabilities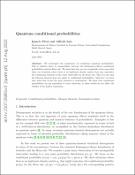 Advisors (or tutors)
Editors
Abstract
We investigate the consistency of conditional quantum probabilities. This is whether there is compatibility between the Kolmogorov-Bayes conditional probabilities and the Born rule. We show that they are not compatible in the sense that there are situations where there is no legitimate density matrix that may reproduce the conditional statistics of the other observable via the Born rule. This is to say that the Gleason theorem does not apply to conditional probabilities. Moreover, we show that when this occurs the joint statistics is nonclassical. We show that conditional probabilities are not equivalent to state reduction, so these results do not affect the validity of the Luders expression.
Description
© 2022 IOP Publishing Ltd. We acknowledge financial support from Spanish Ministerio de Economia y Competitividad Project No. FIS2016-75199-P. We thank Dr G Garcia Moreno for continuous support and helpful comments.
Collections