Publication:
Caracterización de los efectos neuroprotectores del cannabidiol en el daño cerebral hipóxico-isquémico neonatal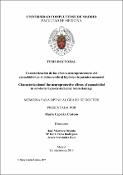 Advisors (or tutors)
Editors
Publisher
Universidad Complutense de Madrid
Abstract
El daño hipóxico-­‐isquémico (HI) neonatal es una patología grave cuya principal secuela es la parálisis cerebral. Dos de las principales patologías HI neonatales son la Encefalopatía Hipóxico-­‐Isquémica Neonatal (NHIE)1, caracterizado por un daño cerebral global y difuso, y el Infarto Isquémico Arterial Perinatal (PAIS), un daño HI focal que afecta principalmente al territorio dela arteria cerebral media izquierda.El origen del daño HI es el descenso de glucosa y oxígeno causado por la disminución del flujo cerebral, que induce la llamada "triada mortal" (excitotoxicidad, estrés oxidativo e inflamación),que conduce a la muerte celular y al daño cerebral. Al ser los oligodendrocitos, especialmente en su etapa de pre-­‐oligodendrocitos, especialmente sensibles al daño la HI produce una hipomielinización. Los astrocitos y la microglia promueven activamente la "triada mortal " pero también son fundamentales en la respuesta reparativa generada por la HI...
Neonatal hypoxic-­‐ischemic (HI) brain injury is a severe condition which main deleterious consequence is cerebral palsy. Two main neonatal hypoxic-­‐ischemic pathologies are described: Neonatal Hypoxia-­‐Ischemia Encephalopathy (NHIE), a global, diffuse brain damage, and Perinatal Arterial Ischemic Stroke (PAIS), a focal HI insult which usually affects the left middle cerebral artery territory. The primary cause of damage in NHIE and PAIS is the decrease of glucose and oxygen due to the depletion of brain blood flow, which induced the so-­‐called "deadly triad", a combination of excitotoxicity, oxidative stress and inflammation that eventually leads to cell death and HI-­‐induced brain damage. Oligodendrocytes are particularly sensitive to HI damage, mainly in its preoligodendrocyte stage, and eventually HI-­‐induced hypomyelination. Astrocytes and microglia contribute actively promoting the "deadly triad" but are also key in the reparative response triggered after HI.
Description
Tesis de la Universidad Complutense de Madrid, Facultad de Medicina, leída el 18-02-2019