Publication:
Black holes in f(R) theories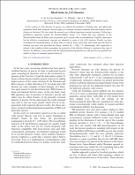 Authors
Cruz Dombriz, Álvaro de la
Advisors (or tutors)
Editors
Publisher
American Physical Society
Abstract
In the context of f(R) theories of gravity, we address the problem of finding static and spherically symmetric black hole solutions. Several aspects of constant curvature solutions with and without electric charge are discussed. We also study the general case (without imposing constant curvature). Following a perturbative approach around the Einstein-Hilbert action, it is found that only solutions of the Schwarzschild-(anti) de Sitter type are present up to second order in perturbations. Explicit expressions for the effective cosmological constant are obtained in terms of the f(R) function. Finally, we have considered the thermodynamics of black holes in anti-de Sitter space-time and found that this kind of solution can only exist provided the theory satisfies R(0)+f(R(0))<0. Interestingly, this expression is related to the condition which guarantees the positivity of the effective Newton's constant in this type of theories. In addition, it also ensures that the thermodynamical properties in f(R) gravities are qualitatively similar to those of standard general relativity.
Description
© 2009 The American Physical Society. This work has been supported by Ministerio de Ciencia e Innovacion (Spain) Projects No. FIS 2008-01323 and No. FPA 2008-00592, UCM-Santander PR34/07-15875 and UCM-BSCH GR58/08 910309.
Citation
[1] S. Nojiri and S. D. Odintsov, Phys. Rev. D 68, 123512 (2003); Gen. Relativ. Gravit. 36, 1765 (2004); S. M. Carroll, V. Duvvuri, M. Trodden, and M. S. Turner, Phys. Rev. D 70, 043528 (2004); A. Dobado and A. L. Maroto, Phys. Rev. D 52, 1895 (1995); G. Dvali, G. Gabadadze, and M. Porrati, Phys. Lett. B 485, 208 (2000); A. de la Cruz-Dombriz and A. Dobado, Phys. Rev. D 74, 087501 (2006); J. A. R. Cembranos, Phys. Rev. D 73, 064029 (2006); S. Nojiri and S. D. Odintsov, Int. J. Geom. Methods Mod. Phys. 4, 115 (2007). [2] J. A. R. Cembranos, Phys. Rev. Lett. 102, 141301 (2009). [3] A. Dobado and A. L. Maroto, Phys. Lett. B 316, 250 (1993); 321, 435(E) (1994). [4] T. P. Sotiriou and V. Faraoni, arXiv:0805.1726 [Rev. Mod. Phys. (to be published)]. [5] T. P. Sotiriou, Gen. Relativ. Gravit. 38, 1407 (2006); V. Faraoni, Phys. Rev. D 74, 023529 (2006); S. Nojiri and S. D. Odintsov, Phys. Rev. D 74, 086005 (2006); I. Sawicki and W. Hu, Phys. Rev. D 75, 127502 (2007). [6] B. Whitt, Phys. Lett. B 145, 176 (1984). [7] S. Mignemi and D. L. Wiltshire, Phys. Rev. D 46, 1475 (1992). [8] T. Multamaki and I. Vilja, Phys. Rev. D 74, 064022 (2006). [9] G. J. Olmo, Phys. Rev. D 75, 023511 (2007). [10] S.W. Hawking and D. N. Page, Commun. Math. Phys. 87, 577 (1983). [11] E. Witten, Adv. Theor. Math. Phys. 2, 505 (1998). [12] G. Cognola, E. Elizalde, S. Nojiri, S. D. Odintsov, and S. Zerbini, J. Cosmol. Astropart. Phys. 02 (2005) 010. [13] F. Briscese and E. Elizalde, Phys. Rev. D 77, 044009 (2008). [14] M. Cvetic, S. Nojiri, and S. D. Odintsov, Nucl. Phys. B628, 295 (2002). [15] R. G. Cai, Phys. Rev. D 65, 084014 (2002). [16] Y. M. Cho and I. P. Neupane, Phys. Rev. D 66, 024044 (2002). [17] R. G. Cai, Phys. Lett. B 582, 237 (2004); J. Matyjasek, M. Telecka, and D. Tryniecki, Phys. Rev. D 73, 124016 (2006). [18] T. Ortı´n, Gravity and Strings (Cambridge University Press, Cambridge, England, 2003). [19] J. B. Hartle and S.W. Hawking, Phys. Rev. D 13, 2188 (1976); G.W. Gibbons and M. J. Perry, Proc. R. Soc. A 358, 467 (1978); G.W. Gibbons and S.W. Hawking, Phys. Rev. D 15, 2752 (1977); Euclidean quantum Gravity (World Scientific, Singapore, 1993). [20] S.W. Hawking, Commun. Math. Phys. 43, 199 (1975); 46, 206(E) (1976). [21] T. Multamaki, A. Putaja, I. Vilja, and E. C. Vagenas, Classical Quantum Gravity 25, 075017 (2008). [22] .J. D. Bekenstein, Phys. Rev. D 7, 2333 (1973). [23] L. Pogosian and A. Silvestri, Phys. Rev. D 77, 023503 (2008). [24] W. Hu and I. Sawicki, Phys. Rev. D 76, 064004 (2007)
Collections