Publication:
Algunas reflexiones sobre la situación del grado en Sociología en España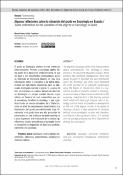 Advisors (or tutors)
Editors
Publisher
Federacion Española de Sociologia
Abstract
El grado en Sociología adolece de tres problemas interconectados. Primero, la sociología apenas forma parte de la educación preuniversitaria, lo que da lugar a dos importantes consecuencias: quien se matricula en Sociología dispone de muy poca información sobre la disciplina y no habrá desarrollado las habilidades necesarias para un adecuado desempeño durante el grado. Si, a pesar de ello, encontramos un número elevado de alumnos en Sociología, es porque muchos sienten mayor interés por finalizar el nivel universitario que por el aprendizaje del oficio de sociólogo, lo que significará tanto un elevado abandono de la titulación, como un nivel de competencias desarrolladas a la finalización del grado presumiblemente bajo. Finalmente, si el grado atrae una alta proporción de estudiantes sin una auténtica vocación sociológica y poco dispuestos a la realización de esfuerzos significativos, es poco probable que el egresado medio se encuentre en disposición de dedicarse profesionalmente a la sociología.
The degree in Sociology suffers from three problems deeply interconnected. Fist, sociology is barely present in pre-university education in Spain, which produces two important consequences: those who decide to enroll in Sociology will lack information about the discipline and won't have developed the skills required for an adequate performance along the degree. If, despite that, there is a significant number of students enrolled in Sociology, is because many of them are more interested in the university credential than in the learning process itself, which will mean high dropout rates in Sociology and low levels of competence development at the end of the degree. Finally, if the degree in Sociology attracts a high proportion of students without a true sociological vocation and, therefore, unwilling to make significant efforts, it is unlikely that the average graduate may be in disposition of working as a sociologist.
Collections