Publication:
Modelos geotectónicos de los diques E-W en el Sistema Central Español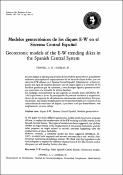 Advisors (or tutors)
Editors
Publisher
Seminario de Estudos Galegos. Area de Xeoloxía e Minería ; Instituto Universitario de Xeoloxía "Isidro Parga Pondal"
Abstract
En este trabajo se efectúa una revisión de los modelos geotectónicos actualmente existentes para explicar el emplazamiento de los haces de diques ácidos, que con dirección E-W afloran en el Sistema Central Español. Clásicamente, se han propuesto dos tipos de modelos distintos: uno de origen ligado a la intrusión de los batolitos graníticos que los contienen, y otro de origen ligado a procesos tectónicos posteriores a la intrusión de dichos batolitos. Sin embargo, recientemente ha sido sugerido un modelo mixto (DOBLAS, M., 1987) que invoca a la vez la participación de procesos tectónicos y magmáticos, dentro de un esquema de «detachments» extensionales tardi-hercínicos. En nuestra opinión, este último modelo parece ser el que mejor explica el conjunto de las características de estos haces de diques, y por tanto es el que desarrollamos, más ampliamente, en este trabajo.
In this paper we revise different geotectonic models which have been proposed till now, to explain the emplacement of the EW trending acid dike swarrns in the Spanish Central System. Two types of models have been suggested: one of them invokes an origin related to the emplacement of the granitic batholiths, and the other proposes an origin related to tectonic processes happening after the emplacement of these batholiths. However, recently, a combined model has been suggested (DOBLAS, M., 1987), in which both magmatic and tectonic processes playa role, within a latehercynian extensional detachment scheme. We think that this hypothesis is the most adequate to explain the different characteristics of the dike swarms, and in this paper we will develop further this idea.
Collections