Publication:
The marking of stance in news magazines: a gender-based analysis of epistemicity and attitude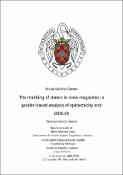 Authors
Advisors (or tutors)
Editors
Abstract
The present investigation stems from two tenets: the need to bring together the fields of research of stance and gender in language, and to observe how they interact in the discourse of news magazines. In recent years, there has been extensive research on gender-related differences in language, but few works have regarded possible differences in the expression of stance by men and women. In order to tackle this issue, this paper studies epistemic and attitudinal stance from a lexico-grammatical perspective, using a mixed-methods approach to the analysis. Taking frequency as the primary variable, findings reveal that men use more stance strategies than women, both epistemic and attitudinal. The analysis of epistemic stance items indicates that men are more assertive in their articles, whereas women are more tentative. Additionally, through the analysis of attitudinal stance expressions, this study concludes that male writers are more affective when using stance adjectives and adverbials, while female writers are more prone to make assessments or judgments. These results emphasize the importance of taking into account both gender-related differences and genre in the analysis of stance expressions.
El presente trabajo tiene como objetivo unir las áreas de la subjetividad y las diferencias de género en el lenguaje y observar cómo estas interactúan en el discurso de las revistas de noticias. Existen numerosas investigaciones que han abordado las diferencias lingüísticas relacionadas con el género. Sin embargo, las posibles diferencias que pueden existir en cuanto a cómo los hombres y las mujeres expresan la subjetividad no han sido estudiadas en profundidad. Con el fin de abordar dicho tema, este trabajo estudia la subjetividad en el lenguaje desde un punto de vista epistémico y actitudinal con un enfoque léxico-gramatical. Para ello, se ha tomado la frecuencia como la principal variable del estudio. Los resultados muestran que los hombres utilizan más estrategias de subjetividad que las mujeres, tanto epistémicas como actitudinales. Además, gracias al análisis de estrategias epistémicas, se ha podido concluir que los hombres son más asertivos en sus artículos; en cambio, las mujeres son más inciertas o tentativas. El análisis de expresiones actitudinales señala que los hombres emplean expresiones de afectividad con mayor frecuencia a través de adjetivos, adverbios y locuciones adverbiales que las mujeres, puesto que estas tienden a expresar juicios de valor al hacer uso de estos elementos lingüísticos. Estos resultados recalcan la importancia que tiene considerar tanto las diferencias lingüísticas de género como el género discursivo a la hora de analizar expresiones de subjetividad.