Publication:
Correlación entre los valores de FEV1 y DLCO con el VO2máx como predictores de morbimortalidad en pacientes sometidos a resección pulmonar debido a cáncer de pulmón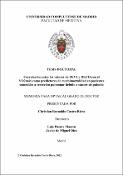 Authors
Advisors (or tutors)
Editors
Publisher
Universidad Complutense de Madrid
Abstract
En la actualidad, el tratamiento de primera línea para el carcinoma de origen bronquial es la resección quirúrgica en los casos en los que el paciente sea candidato a dicha cirugía (resecable). Para decidir si dichos pacientes son operables, deben ser sometidos a una serie de pruebas y valoraciones. Hay varias guías internacionales que indican la forma en la que debe llevarse a cabo la valoración prequirúrgica de los pacientes que serán sometidos a esta cirugía, siendo las más utilizadas las de la American College of Chest Physicians (ACCP), la de la European Respiratory Society/European Society of Thoracic Surgeons (ERS/ESTS) y la de la British Thoracic Society (BTS). Aunque en distinto orden, las tres guías recomiendan que dicha valoración conste de pruebas de función pulmonar, principalmente el volumen espiratorio forzado en el primer segundo (FEV1) y el test de capacidad de transferencia de monóxido de carbono (DLCO). Una estimación de la función postoperatoria, se basa en el número de segmentos a resecar y se realiza con la Gammagrafía de ventilación– perfusión o con pruebas de imagen radiológica. Por último, se incluye el consumo máximo de oxígeno (VO2), o una prueba de tolerancia al esfuerzo tales como los tests de marcha (tanto el de 6 minutos como el de lanzadera)...
Currently, the first-line treatment for carcinoma of bronchial origin is surgical resection in cases in which the patient is a candidate for such surgery (resectable). To decide whether these patients are operable, they must undergo a series of tests and evaluations. There are several international guidelines that indicate the way in which the pre-surgical assessment of patients who will undergo this surgery should be carried out, the most used are the American College of Chest Physicians (ACCP), the European Respiratory Society /European Society of Thoracic Surgeons (ERS / ESTS) and the British Thoracic Society (BTS). Although in different order, the three guidelines recommend that this assessment consist of pulmonary function tests, mainly the forced expiratory volume in the first second (FEV1) and the carbon monoxide transfer capacity test (DLCO). An estimate of postoperative function is based on the number of segments to be resected and is performed with ventilation-perfusion scintigraphy or with radiological imaging tests. Finally, the maximum oxygen consumption (VO2) is included, or a stress tolerance test such as the walking tests (both the 6-minute and the shuttle tests)...
Description
Tesis inédita de la Universidad Complutense de Madrid, Facultad de Medicina, leída el 31-01-2022
Collections