Publication:
Celulosa nanofibrilada y su aplicación en la industria papelera para la mejora de productos reciclados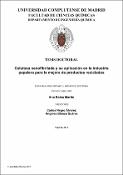 Authors
Advisors (or tutors)
Editors
Publisher
Universidad Complutense de Madrid
Abstract
La fabricación de papel es un sector industrial sostenible donde el reciclaje constituye uno de los pilares fundamentales. En Europa, el 54% de la materia prima que utiliza la industria papelera proviene del papel recuperado siendo la tasa de reciclaje del 72% (CEPI 2015). Sin embargo, uno de los principales problemas de las fibras recuperadas es mantener el nivel de calidad de los productos papeleros que aumenta continuamente por las exigencias del mercado. Además, la demanda de papel ha disminuido debido a la recesión económica y al uso de otros soportes de información, lo cual exige una continua reducción de costes dentro del sector para mantener la competitividad de las empresas. Aunque la industria papelera trata de compensar la pérdida de calidad de las fibras secundarias con la aplicación de procesos de refino y el uso de aditivos de resistencia, la baja resistencia mecánica de los productos papeleros sigue siendo la principal fuente de reclamaciones a los fabricantes de papel reciclado. Por este motivo, es necesario la búsqueda de nuevas estrategias que permitan mejorar el enlace entre las fibras, y la celulosa nanofibrilada (CNF) abre nuevos horizontes como agente de resistencia alternativo...
Papermaking is a sustainable industrial sector in which paper recycling has been recognized as being of great importance. In Europe, 54% of the paper industry's feedstock comes from recovered paper, which corresponds to a paper recycling rate of 72% (CEPI 2015). However, one of the main problems in the utilization of secondary fibers is to maintain the quality levels of the paper products which is continuously increasing following customer demands. On the other hand, paper demand has decreased due to both economic recession and replacement of paper by other information supports, what results in a need to continuously reduce production costs in the sector to maintain competitiveness. Although the paper industry has tried to counterbalance the low quality of secondary fibers with the application of refining processes and the use of strengthening additives, the low mechanical strength of the papers remains the main source of customer complaints to paper manufacturers. It thus becomes necessary to explore new strategies to improve interfiber bonding. Inthis context cellulose nanofibers (CNF) have potential as alternative strengthening agent...
Description
Tesis de la Universidad Complutense de Madrid, Facultad de Ciencias Químicas, Departamento de Ingeniería Química, leída el 08/05/2017. Tesis formato europeo (compendio de artículos)
Collections