Publication:
Democracia y Estado de Derecho: respuestas legales desde las Naciones Unidas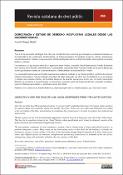 Authors
Advisors (or tutors)
Editors
Abstract
Tras el fin de la escisión ideológica Este-Oeste se constató de forma universal que el respeto a los derechos humanos no era realizable sin dos condiciones: la democracia y el Estado de derecho. Se sumaban así nuevos valores y limitaciones a la soberanía de los Estados, lo que constreñía el tradicional poder discrecional de los Estados para organizar su sistema político y jurídico. Las amenazas a la paz no provienen de las agresiones entre Estados, sino de la falta de democracia y Estado de derecho en el interior de los Estados; ello ha llevado a innumerables actuaciones de las Naciones Unidas, en las que se deduce que su obra pacificadora consiste en la democratización y fortalecimiento institucional de los Estados. La comunidad internacional de Estados mantiene una tendencia evidente en su práctica jurídica y política de propiciar sistemas democráticos. Muchos Estados están lejos de haber alcanzado ese ideal, pero la tendencia es ya un progreso y siempre una esperanza frente a la frustrante decepción de aquellas democracias en las que, tras hacer transiciones difíciles, la corrupción y la partitocracia se aliaron en la deconstrucción del Estado de derecho, poniendo en peligro, junto al tribalismo nacionalista, la existencia misma del Estado.
After the end of the East-West ideological schism, it was universally established that respect for human rights could not be realized without two conditions: democracy and the rule of law. In this way, new values and limitations were added to the sovereignty of the State, which limited the traditional discretionary power of states to organize their political and legal system. Threats to peace do not stem from interstate aggression, but from the lack of democracy and rule of law within states. That has led to countless actions by the United Nations, whose pacification work, it may be deduced, consists of the democratization and institutional strengthening of states. The international community of states maintains a tendency that is obvious from its legal and political practice: to promote democratic systems. Many states are far from having achieved that ideal, but the tendency is already one of progress, always a source of hope in the face of the frustrating disappointment engendered by those democracies where, after difficult periods of transition, corruption and partitocracy joined forces to dismantle of the rule of law, endangering, along with nationalist tribalism, the very existence of the State.
Collections