Publication:
Nanopartículas poliméricas autoensambladas y bioactivas para el tratamiento del cáncer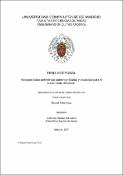 Authors
Advisors (or tutors)
Editors
Publisher
Universidad Complutense de Madrid
Abstract
Los tratamientos anticancerígenos que existen actualmente en el mercado se caracterizan por su elevada toxicidad debido a su escasa especificidad ya que afectan tanto a células tumorales como a células sanas. Por ello, la investigación en este campo se centra en el descubrimiento de nuevos fármacos que acaben selectivamente con las células cancerígenas. En este sentido, el succinato del α-tocoferol (α-TOS) es un mitocan (del inglés, mitochondrial targeted anticancer drugs) que ha demostrado inducir selectivamente la apoptosis vía mitocondrial de células tumorales sin afectar a células no patológicas. Esto le posiciona como un destacado candidato para el desarrollo de nuevos fármacos poliméricos que mejoren su solubilidad en medio fisiológico, facilitando su administración. Por eso, el principal objetivo de esta tesis doctoral ha sido el diseño, caracterización fisicoquímica y evaluación de la actividad biológica de diversos vehículos poliméricos nanoestructurados portadores del fármaco anticancerígeno α-TOS con el fin de lograr un tratamiento más eficaz, selectivo y menos tóxico contra el cáncer. Para alcanzar este objetivo, en primer lugar se copolimerizaron con éxito derivados metacrílicos del α-TOS (MTOS), de la vitamina E (MVE) y del dihidrofitol (SPHY y MPHY) con la N-vinil-pirrolidona (VP) por polimerización radical convencional. Estos copolímeros fueron capaces de autoensamblarse en medio acuoso, debido a su naturaleza anfifílica y la mayor reactividad de los derivados metacrílicos frente a la VP. Las nanopartículas (NPs) obtenidas a partir de los copolímeros poli(VP-co-MVE) y poli(VP-co- MTOS) resultaron bioactivas, con una actividad intrínseca anticancerígena y antiangiogénica dependiente del contenido en monómero hidrofóbico (MVE y MTOS) y altamente selectiva, afectando en menor medida a células no patológicas y quiescentes. Además, la actividad antitumoral de estas NPs resultó estrechamente dependiente de la línea celular ensayada, siendo menos activas frente a células de carcinoma de hipofaringe FaDu. Por ello, las NPs basadas en los copolímeros poli(VP-co-MTOS) se emplearon eficazmente para la encapsulación de α-TOS en su núcleo hidrofóbico, mejorando su actividad anticancerígena per se frente a células FaDu. Además, se profundizó en el mecanismo de acción de las partículas vacías y cargadas, demostrando que producían la muerte celular por apoptosis intrínseca, vía complejo II de la cadena de transporte de electrones de las mitocondrias...
Actual cancer treatments are characterized by their high toxicity and low selectivity, affecting both tumor and nonmalignant cells. Therefore, the investigations in this field are focused on the development of new drugs that selectively target and kill cancer cells. In this sense, α-tocopherol succinate (α-TOS) is a mitocan (mitochondrial targeted anti-cancer drugs) that selectively induces apoptosis via complex II in the mitochondria of tumor cells, with little or no harm to nonmalignant cells. For that reason, this drug is an excellent candidate for the development of new polymeric drugs that improve its solubility in physiological media and facilitate its administration. Therefore, the main objective of this thesis has been the synthesis, physico-chemical characterization and biological evaluation of different polymeric nanovehicles based on α-TOS in order to achieve a more efficient, selective and less toxic anticancer treatment. Firstly, methacrylic derivatives of vitamin E (MVE), α-TOS (MTOS) and dihydrophytol (SPHY and MPHY) were successfully copolymerized with Nvinylpyrrolidone (VP) by free radical polymerization. These copolymers were able to selfassemble in aqueous medium, due to their amphiphilic nature and the higher reactivity of methacrylic derivatives against VP. Self-assembled nanoparticles (NPs) obtained from poly(VP-co-MVE) and poly(VP-co-MTOS) were bioactive and presented anticancer and antiangiogenic activities as a function of the hydrophobic monomer content (MVE and MTOS) and high selectivity, with little or no harm to nonpathological and quiescent cells. Furthermore, the antitumor activity of these NPs was found to depend on the tested tumor cell lines, being less active against hypopharynx carcinoma FaDu cells than breast adenocarcinoma MCF7 cells. Therefore, NPs based on poly(VP-co-MTOS) copolymers were effectively used for the encapsulation of α-TOS in their hydrophobic core, improving their anticancer activity against FaDu cells. Furthermore, the mechanism of action of unloaded and α-TOS-loaded NPs was exhaustively studied, demonstrating that these nanoassemblies induce apoptosis by activating the mitochondria death pathway (via complex II of the electron transport chain)...
Description
Tesis inédita de la Universidad Complutense de Madrid, Facultad de Ciencias Químicas, Departamento de Química Orgánica, leída el 17-10-2016
Collections