Publication:
Impact of BCR-ABL1 Transcript Type on Response, Treatment-Free Remission Rate and Survival in Chronic Myeloid Leukemia Patients Treated with Imatinib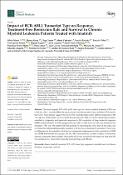 Advisors (or tutors)
Editors
Abstract
The most frequent BCR-ABL1-p210 transcripts in chronic myeloid leukemia (CML) are e14a2 and e13a2. Imatinib (IM) is the most common first-line tyrosine–kinase inhibitor (TKI) used to treat CML. Some studies suggest that BCR-ABL1 transcript types confer different responses to IM. The objective of this study was to correlate the expression of e14a2 or e13a2 to clinical characteristics, cumulative cytogenetic and molecular responses to IM, acquisition of deep molecular response (DMR) and its duration (sDMR), progression rate (CIP), overall survival (OS), and treatment-free remission (TFR) rate. We studied 202 CML patients, 76 expressing the e13a2 and 126 the e14a2, and correlated the differential transcript expression with the above-mentioned parameters. There were no differences in the cumulative incidence of cytogenetic responses nor in the acquisition of DMR and sDMR between the two groups, but the e14a2 transcript had a positive impact on molecular response during the first 6 months, whereas the e13a2 was associated with improved long-term OS. No correlation was observed between the transcript type and TFR rate.
Collections